Beauty
Keratin Treatment, Hold the Formaldehyde
Keratin Treatment, Hold the Formaldehyde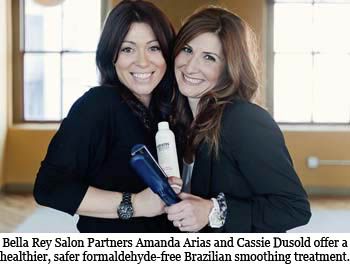 By now, you've probably heard about the Brazilian smoothing treatments that are all the rage. By infusing keratin protein back into your hair, you can say goodbye to frizz and hello to a sleek, chic bombshell (that's you)!
The smoothing treatments give you more time by drying quicker and flat-ironing faster. And curly-haired ladies can keep their ringlets.
Sounds fantastic, but not all treatments are made the same. Some have caused burning eyes and nasal passages. Some clients complained about a burning, itchy scalp or that their hair smelled like burnt chemicals after the treatment. One product even set off a salon's smoke alarm.
Bella Rey Salon Partners Amanda Arias and Cassie Dusold experienced all that and more with Brazilian smoothing treatments, but they wanted better for their clients. They didn't want one of their services to come at the cost of their clients' health and safety, and with some of the side effects, they were skeptical that could be achieved with some of the keratin treatments out there.
"It's not safe, and there's no way a manufacturer can tell me that that's normal or that's OK for me to breathe in every day, much less charge my client for that," Arias says. Instead, they turned to the Coppola Treatment, which is now a mainstay at Bella Rey.
This formaldehyde-free treatment uses a chemical substitute that still aids in infusing the keratin into the hair. "It's protected with molecules so that it does not burn off when heated, but it helps fuel the product into the hair," Arias says.
With the Coppola Treatment, gone are the days of nasty fumes, burning sensations and watery eyes when you want to sleekify your hair, and Arias and Dusold's clients even prefer the lasting effects better than any other treatment they've used.
With Bella Rey, you can even score a better deal for the treatment too. A Coppola service runs $250 at Bella Rey, and you receive a complimentary haircut (a $40 value). On top of that, Bella Rey gives you a free bottle of shampoo with your first Coppola Treatment to extend the service's effectiveness. And if you pre-book your appointments, you receive 10 percent off, so you can walk out the door with your freshly cut, frizz-free hair for just $225.
If you're not sold on the smoothing treatment idea but are interested for more information, Arias and Dusold invite you to come in for a free consultation. To set up the consultation or book an appointment, call Arias at (513) 289-9039 or Dusold at (513) 300-3218. And for more information, check out BellaReySalon.com.
PHOTO CREDITS
Photographer: Neysa Ruhl
Model: Amanda Arias and Cassie Dusold

Location: BOOST…for meeting's sake