Beauty
Monthly Makeover: Stephanie Tkach
Monthly Makeover: Stephanie Tkach

Like many brides, Stephanie Tkach grew out her hair for her wedding. She had long, flowing locks for her big day, but she was itching for a new look shortly thereafter.
Tkach, a 23-year-old Crestview Hills resident, was selected to be the first monthly makeover at Mitchell's Salon & Day Spa. This is a free program where one lucky person will be selected to win a complimentary hair and makeup makeover at Mitchell's Salon and will be featured in an issue of Cincy Chic. Click here to learn more about the makeover program and enter to win!
When she arrived for her makeover, Tkach had poker-straight hair and just some light mascara on. But she had a date with her husband planned for later that night, so she wanted to look like a new woman — sexy and sassy — but not overdone.
Hannah Eaton, designer stylist at the Kenwood Mitchell's, decided to give her a two-toned blonde highlight to get rid of her roots and freshen up her color. "She has light eyes, so I gave her a warm beige," Eaton says. "Being platinum with light features like hers tends to wash people out."
Because Tkach is petite, Eaton took off some length to make her hair more proportional to her small frame. She also used a large round brush when blowdrying to give her volume and a smooth, effortless curl.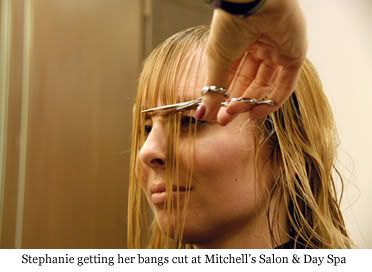 The most noticeable change in this makeover were the bangs. "Stephanie had a lot of dominating features that needed framing, so I added a bang and layered around her face," Eaton says. This, she adds, draws attention to her big green eyes.
Eaton used Bumble and bumble styling lotion ($26.40), which is great for blondes because it's light-weight. She used a thickening spray ($28.60) and styling crème ($26.40) for volume and structure. Then, velcro rollers to set and Brilliantine for shine, separation and a messy chic finish. All products available for purchase at any of the five Mitchell's Salon locations.
After her hair was completed, she moved to the spa side of Mitchell's to meet master esthetician, Toby Klein. She waxed Tkach's brows and defined them with powder
specifically made for blonde brows. "Because her eyebrows are light, we used Jane Iredale brow kit for blondes ($28.60) to further define her eyebrows," Klein says.
Before applying the mineral makeup, she applied a hydrating gel. "It helps it adhere," Klein says. "With any makeup, a moisturized face helps it look more flawless." She used loose Jane Iredale foundation powder ($39.10) because, according to Klein, mineral powders look more natural and allow the skin to breathe better.
Klein applied a lemon-hued eyelid prep to keep her shadow from creasing. "The yellow undertone complements the gold tones we'll be using," Klein says. To compliment Tkach's green eyes, Klein used "Glimmer Gold," "Dawn," and "Wine & Roses" color eyeshadows in a smokey eye application.
A helpful hit for giving the allusion of larger eyes, Klein says, is to just put liner on the outer half of the upper and lower lid. "Lining the entire way across actually makes the eye look smaller," she says. "So, just go halfway to give the eye a smokey shadow effect that makes them look larger." She put a highlighter ($16.50) on the inside corner of the eyes to give them an instant "awake" look. Klein used a soft bristle brush to blend and take away any harsh lines of liner and shadow.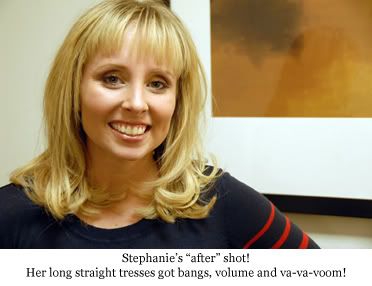 Klein says it's best to only draw attention to one feature on the face to avoid looking overdone. "I went more subtle with the cheeks and lips because the primary focus is on the eyes," she says. Klein used Jane Iredale's "Iced Mocha" ($21.00) on the lips, and "Whisper" ($28.60) on her cheeks. Klein says the best way to apply blush is to smile and put the color on the apples of the cheeks in a circular motion.
The look was finished off with a "mimosa" colored gloss. Klein suggested using a repair balm if you use glosses often to ensure a smooth, flawless texture.
Tkach says she's thrilled with her new look "I didn't know my hair could have so much volume," she says.
"When she used the round brush blow drying and the large rollers, I was impressed!"
She also loved the tips for coloring in her brows with her new brow kit. "The eyebrow powder will come in great use during the summer months when my eye brows somewhat fade with the sunlight," Tkach says. She's also been using Klein's lining and shadowing tips at home. "I use her tips on lining the outer half and highlighting the inner half just about every day now and it really makes my eyes pop," says Tkach. "Also, I bought the eyelid primer and love the difference in the way the eye shadow applies and looks more smooth."
Tkach's husband says the new look made him fall in love with her all over again. Ah, newlyweds.
Editor's Note: This is a special advertising section provided by Mitchell's Salon & Day Spa.
PHOTO CREDITS
Photographer: Amy Scalia
Model: Stephanie Tkach

Location: Mitchell's Salon & Day Spa