Beauty
Prepared for down There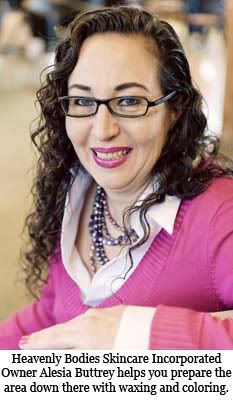 Before any clothes come off, you need to do some prep work. With any special occasion, more and more women are turning to Heavenly Bodies Skincare Incorporated for waxing and coloring.
Heavenly Bodies offers waxing pretty much from head to toe with eyebrows, arms, belly, back, legs and toes. But Buttrey has become known in the area as the go-to gal for bikini and Brazilian waxing.
Owner Alesia Buttrey has more than 30 years' experience as a licensed cosmetologist, and that experience is everything when Brazilian waxes are involved. So when Cosmopolitan magazine came out with an article on Brazilian waxing a couple years ago, her phone started ringing with requests, and her experience, know-how and overall personality kept customers coming back. Now, she has converted Heavenly Bodies into an all-waxing spa as of three years ago.
Her Brazilian waxing services rarely take longer than 15 minutes, and she uses a technique called "The Seven-Minute Brazilian," which uses specific body positioning to minimize the pain involved. That, combined with the quick approach and Buttrey's experience, make a Brazilian much easier to handle at Heavenly Bodies. "I think the best thing you can do to minimize the level of sensitivity is to have a proficient operator, someone who's experienced," Buttrey says.
Before having a waxing service, whether Brazilian or bikini, Buttrey needs at least two weeks of hair growth to get the job done. "A lot of people will say, 'I don't know if I can wait two weeks without shaving.' It's really only annoying to have that hair on the first visit because after your first treatment, the waxing reduces the amount of hair that you have by over 50 percent," Buttrey says.
In addition to thinning the hair growth, waxing also rarely causes problems with in-grown hairs typically experienced with shaving. "Many people switch to the waxing because they have so much trouble with in-grown hairs when they shave," Buttrey says. In the event that you are prone to in-grown hairs still, though, Heavenly Bodies offers a couple different treatment products Buttrey will recommend on an individual basis.
In addition to waxing, Heavenly Bodies offers coloring for the "hair down there." You can do it at the spa (prices range from $50 to $125), but most women prefer to use the at-home coloring kits ($30) you can buy at the spa. It's a time-intensive procedure, so the at-home kits are the more affordable option.
The coloring is specially formulated for the sensitive area. "My partner Kim and I thought that it might be fun to offer coloring for the hair down there around Valentine's one year, and we started to search for a product that would be appropriate for the bikini area. We did a lot of research, we did a lot of testing on our own," Buttrey says.
Colors range from your natural shades of blonde, brown, black and auburn to "crazy coochie colors," Buttrey says. Fuchsia and lavender make for great Valentine's Day colors, Bengal Orange helps add some team spirit, and a bright green works well to celebrate St. Patrick's Day.
Generally, the blonde and crazy colors will take longer than the darker colors because you have to apply a lightening treatment or two before coloring. So covering a little gray would only take about 30 minutes while dying it blonde or a crazy color could take up to an hour and a half.
For more information about coloring or waxing services, head to CincySpa.com or call Heavenly Bodies at (513) 321-8252.

PHOTO CREDITS
Photographer: Neysa Ruhl
Model: Alesia Buttrey

Location: BOOST…for meeting's sake