Beauty
Glam Session with Your Girlfriends
Glam Session with Your Girlfriends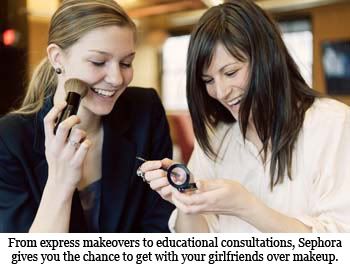 Growing up, we spent countless slumber parties staying up late for some makeover fun. Now that we're all adults here, that thrill of getting glammed up doesn't just have to be in your memories. So get those invitations out to head to Sephora for a great afternoon spent getting makeovers with your gal pals (which makes for a great excuse for a girls' night out afterward).
Sephora offers a few types of makeovers, including a quick and easy express makeover. During the express makeover, a beauty expert helps you navigate through the many brands of makeup to narrow the selection to what will best fit your beauty needs. These on-the-spot consultations are free and only take about 10 minutes. Whether you're searching for your perfect shade of foundation or the products you need to create that sexy smoky eye, the beauty experts are more than happy to assist you.
For a more hands-on experience, the educational consultation might be better suited for you. The 30-minute, free consultation helps you learn a certain makeup look that you've been dying to try but not confident that you know how to do it. The educational consultation is exactly want you need.
"During this we do only one side of your face and you apply the other side, so it is teaching you how to apply full makeup," says Cheryl Lee, store manager of Sephora at Kenwood Towne Centre. With the educational focus, this makeover lasts long after you walk out the door because you are equipped with the techniques to create this look again and again on your own.
For the ultimate makeup experience, Sephora offers a special occasion makeover. Each consultation costs $50, all of which is completely redeemable in merchandise, and it includes the works. From the clean canvas of your face, a beauty expert will start with the bare essentials of skincare building on that with foundation to the final touches of color. Offered by appointment only, you can book consultations for you and four or five of your girlfriends for a fun experience reminiscent of those giggling girls at slumber parties. But you won't have to worry about a set bed time or curfew and can paint the town.
To add some variety to the makeup mix, Sephora has announced that they will open a 3,500 square-foot store at the Crestview Hills Town Center. The store is tentatively scheduled to open at the end of April, which joins the Kenwood, Fields Ertel and Stone Creek Boulevard locations as the fourth location in Southwest Ohio joining.
For more information or to book your own girlfriend makeovers call the Kenwood Sephora at (513) 794-0250.
PHOTO CREDITS
Photographer: Neysa Ruhl
Model: Ashley Sohngen and Bri Trenda

Location: BOOST…for meeting's sake