Beauty
Perfect 10 Smile in 2010 Makeover
Perfect 10 Smile in 2010 Makeover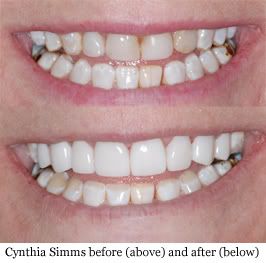 Cynthia Simms loves to smile and light up a room with her laugh. Recently though, she found herself not smiling or laughing, and instead hiding in the shadows of her embarrassing dental issues.
"When I was young, I had veneers placed over my four upper front teeth," Simms explains. "Over the years, they chipped, cracked and discolored and were in desperate need of major repair."
The discoloration, as well as several gaps in her teeth, were embarrassing. However, Simms didn't get them fixed because insurance wouldn't cover the entire expense of these dental corrections.
"I am also single and haven't dated in many years," Simms said in her nomination form. "I think having a prettier smile would give me the confidence I need to help me in this aspect and others."
Simms got her wish and was selected as the winner of the "Perfect 10 Smile in 2010" makeover sponsored by Cincy Chic and donated by the Center for Esthetic Dentistry – Barry P. Gibberman D.M.D.

Gibberman says Simms had a very challenging situation. "She had old, chipped and discolored bonded veneers placed many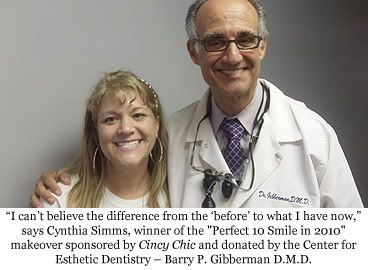 years ago to cover dark colored front teeth and to close spaces between her teeth. Cynthia wanted a brighter, whiter smile with nice even edges."

The challenge, Gibberman explains, was her natural edge-to-edge bite, which can be very damaging to porcelain veneers. To resolve this challenge, he came up with the following treatment plan: creating eight upper Lumineer veneers and adjusting the contours and shape of the lower teeth to minimize stress on the new upper veneers.
"Cynthia also wanted minimal preparation and trauma to her front teeth and no shots if possible. We were able to do this with advance planning with the Lumineers laboratory, and minimal preparation Lumineers," Gibberman happily reports.
Following the planning visits, Gibberman took final impressions of the minimally prepared teeth. Prior to the impression, the old discolored bonding was removed and cavities were filled with white fillings. No anesthetic was necessary.
Three weeks later, the final Lumineers were cemented in place with bonding material, minor adjustments were made and – voila! – Cynthia had a perfect 10 smile to finish out her 2010! "I can't believe the difference from the 'before' to what I have now," says Simms, with a big smile.
Click on the play button below to view an exclusive webcast with Gibberman and Simms.
Editor's Note: This is a special advertising section paid for by The Center for Esthetic Dentistry