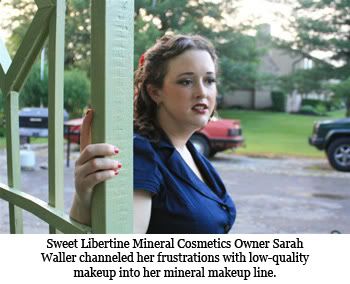 After a trip to a local drugstore, Sarah Waller used the makeup she had purchased only to be disappointed. "That really made me mad because I had spent a lot of money for really bad quality stuff, so with the way my mind works, of course, I'm like, 'Let's see what we can do,' " she says.
And she did. She researched what ingredients would cause a reaction to sensitive skin and dismissed those from her ingredient list. Then she whipped up some of her own mineral makeup for just a fraction of the cost of high-end makeup but without sacrificing the quality.
Her friends urged her to open an Etsy shop, so she posted about 50 jars of her homemade eye shadow. Her store sold out within an hour.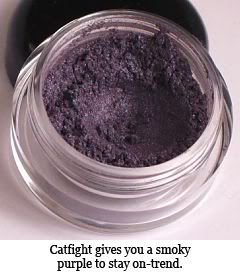 Waller quickly decided to reinvest what she made on Etsy into her new-found business, and just a little less than two years later, Waller's company Sweet Libertine Mineral Cosmetics has become her and her husband's full-time jobs with their international customer base.
So with Sweet Libertine's affordable products (just $5 to $7 for most eye shadow colors), you can keep up with the trends this winter. To help you narrow down the extensive eye shadow offerings (she just expanded with 50 new colors), Waller shares a couple recommendations with you.
In general, Waller says to look for "smoky purples and warm browns and deep wine colors," she says.
For the Smoky Purples: Check out Catfight and Raisin Girl for darker purples. To go a little lighter, Waller also recommends Drunk Mother-in-Law and Storybook Romance.
For the Warm Browns: Waller's recommendations in this category take you from a very dark brown to a more subdued hue. Copper Penny keeps you dark and smoky. Cafe au Lait lightens things up a bit. And Electric Mudslide goes really light with its pinkish color. To go a little more metallic, Waller recommends Brass Monkey.
For the Deep Wine Colors: Waller makes it simple with only one recommendation in this category, so if you're looking for wine, head to Merlot.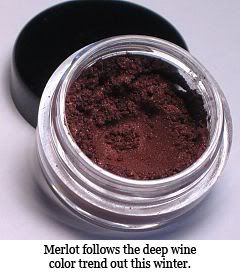 To try before you buy, Sweet Libertine offers a Free Sample Program. You just need to send a self-addressed stamped envelope to them, and they'll send you sample packets of two of Sweet Libertine's most popular colors.
Beyond eye shadows, Sweet Libertine also carries blushes, bronzers, concealers and more. Check out their full store at SweetLibertine.com and give yourself a mineral makeover.

PHOTO CREDITS
Photos courtesy of Sweet Libertine Mineral Cosmetics