Beauty
Getting Your LUSH Lather On
Getting Your LUSH Lather On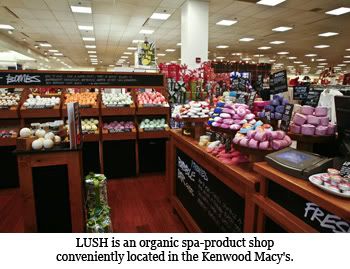 Kenwood Towne Centre's a great place to knock out a bunch of your holiday shopping, and LUSH helps the cause. This organic spa-product shop is conveniently in the Kenwood Macy's.
Focused on all-organic and cruelty-free ingredients, LUSH offers you only fresh, quality products. "For example, we use fresh, organic fruits and vegetables for all of our fresh face masks that get shipped to us every single week," General Manager Vi Nguyen says. "What happens is that we order them on Monday, they actually go out and go shopping for those ingredients on Tuesday, they make them on Wednesday, and they're in our shop by Thursday."
To prove their freshness, LUSH even has expiration dates on all of their products. (Who does that? And how cool is that?!)
With that type of quality assurance, we're sure you'll want to get your hands on some products, so we asked Nguyen what she would recommend this holiday season:
Secret Santa ($10.95): For the bath-lover on your gift list (that can include you too), this LUSH best-seller comes with Snowcake Soap (almond scented) and a Satsumo Santa Bath Bomb (a mandarin orange bath bomb). This pre-wrapped gift set is a recipe for a holly jolly bath time.
Fizztival of Lights ($19.95): Add some magic to the eight nights of Hanukah with this fizzy gift package. Included in this gift set is the top selling bath bomb, Magic, which only comes around once a year. (And now's the time!) It also comes with a Cinders Bath Bomb and Avobath Bath Bomb.
12 Days of Christmas ($74.95): This annual LUSH tradition goes all out with 12 gift-worthy products. Including bubble bars, bath bombs, soaps and shower gel, this is a gift that keeps giving through the holidays and beyond. And it comes pre-wrapped, so you get that extra time to relax.
Stocking Stuffers: Beyond the gift sets, LUSH also offers several limited-edition small items this holiday season. You can pick up a brick of Snowcake Soap or get glittery with Snow Fairy Shower Gel.
Of course, their bath bombs are great for kids from 1 to 92. Because they don't have detergents, these bath-time balls of fun are safer for urinary tracts, which can be irritated by many other bubble bath products. And depending on which bath bomb you choose, your kid can have some fun with pop rocks sounds, water color changes
and even little paper surprises, Nguyen says.
To grab these holiday gifts, head to the LUSH shop in Macy's, and for information on LUSH store events, parties and skincare consultations, call (513) 793-LUSH (5874).

PHOTO CREDITS
Photos courtesy of LUSH