Cancer is a nasty villain. It wreaks havoc on your body and requires treatments that do the same. So while cancer survivors feel horrible on the inside, they also can feel self-conscious about their outside appearance. And that's where the Look Good…Feel Better program comes in.
This free program is a partnership among the American Cancer Society, the Personal Care Products Council and the Professional Beauty Association/National Cosmetology Association. It's geared toward cancer survivors who struggle with the appearance side effects of their treatment.
Covering skincare, makeup, and hair and wig care, each class gives women the chance to spend time with other cancer survivors as they all learn ways to regain their confidence in their appearance. And professionals in the cosmetology industry, like medical esthetician Robin Townsend, donate their time and talent to run the classes, so attendees have the opportunity to learn from the experts.
To get started, cancer patients and survivors can contact the American Cancer Society at (800) 227-2345 for information and to register for a class. Every attendee receives a beauty kit, which is geared to the individual's skin tone, so during registration, participants are asked if they would prefer a light, medium, dark or extra dark kit.
During the class, instructors teach attendees how to use and apply the items in their kit, so the night turns into an informational makeover party. "If you want to take off your wig, your coat, your shoes, whatever you want to do, make yourself totally comfortable, and I let them know that they are amongst friends," Townsend says.
All of the tips are geared toward the attendees, so they can learn how to tie a scarf on their head and what type of scarf to buy so that it is less likely to fly off their head. Participants also learn various tips about their hair and nails that can keep them healthy while their immune systems are down.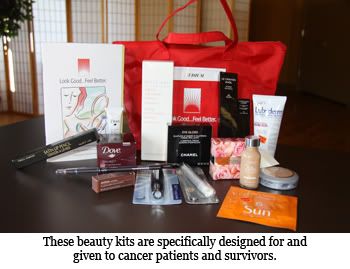 Throughout the two-hour class, instructors accept questions from attendees. "There are specific things that they all want to know the most, and that is how to draw on eyebrows when that hair is gone, how to camouflage eyelashes when that hair is gone," Townsend says. "Wigs are one thing. You can go out and buy a wig, but those are two of the things they are concerned with the most."
For more information about the Look Good…Feel Better program, visit LookGoodFeelBetter.org or call (800) 227-2345.
PHOTO CREDITS
Photographer: Ashley Sohngen
Model: Robin Townsend
Location: BOOST…for meeting's sake