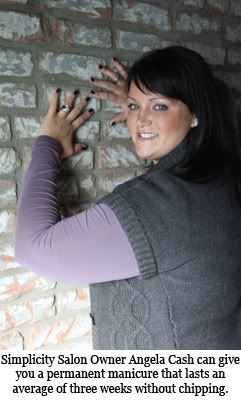 Keeping your nails looking nice is more than just a style thing. Nasty nails can reflect on your personal hygiene, but getting professional manicures can be pricey in both time and money. Simplicity Salon in West Chester has the solution with their permanent manicures.
Now, they aren't really permanent as in lasting forever, but they do last an average of three weeks without chipping or peeling. This longevity makes it great for winter manicures and pedicures, as you can just throw your gloves and boots right on after your done instead of having to choose between waiting and walking out the door in flip-flops.
So how does it work? The permanent manicures are done with a gel polish. The gel, applied like regular polish, is a little thicker than regular polish and much thinner than acrylics, so it's durable while still being flexible. This flexibility allows for a much more natural experience and look.
Simplicity Salon carries four different brands of gel polishes, including OPI Axxium, Shellac, Jessica Cosmetics GELeration and Bio Sculpture Gel. The main reason for carrying all four brands is for a wider color selection. "We have probably 75 different colors between the different brands — and adding," Owner Angela Cash says.
While Cash says most of the brands offer the same quality, she likes Bio Sculpture the best because of its wide color selection and because of its unique formulation. The gel's viscosity allows it to build onto your nail, so if you break a nail on your way to the salon or just have one that's chronically shorter than the others, Bio Sculpture can add a little length to even out all of your nails.
This functionality works wonders on runners' feet. I couldn't remember the last time I had a normal-looking big toe nail until I went to Simplicity Salon. They added a little Bio Sculpture, and it looked beautiful — and then lasted for more than three months (granted, I wasn't running too much in that time).
Because gel polish is so new to the market, it's important to be an informed consumer. One of the most important differences to know is that gel polish will not come off with regular nail polish remover. Instead, you must do an acetone soak, which can get tricky as an at-home solution and can cause damage if done incorrectly. Simplicity Salon includes the professional gel removal in all of their manicure/pedicure packages, including those with regular polish.
Another tip from Cash is to know the products before heading into any salon. "I've run into a lot of clients coming in who say that they have the gel on when, in fact, they don't because it doesn't soak off or where people have substituted different steps," Cash says. One client even said that she had gel for her French manicure, but not the white part because the salon told her that Shellac didn't make a white. But Cash had Shellac in white right in her salon.
"They have consumer Web sites for all these products, so check into it and know these products before you go in so that if they go to put something else on you, you can say, 'No, that's not what I'm looking for,' " Cash says.
For more information about the permanent manicures, visit SimplicityHairandNails.com or call the salon at (513) 777-1600.

PHOTO CREDITS
Photographer: Ashley Sohngen
Model: Angela Cash

Location: BOOST…for meeting's sake