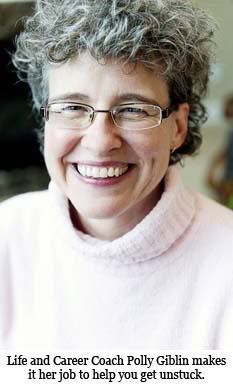 Polly Giblin was stuck. She wasn't literally between a rock and a hard place, but she wanted something more from her career. She had been doing administrative work for a while, but she wanted a career that really took advantage of her individual skill set. And administrative work just wasn't cutting it.
After going on an "inner archaeological dig," as her life coach referred to her focused quest toward finding a new career path, Giblin realized that she wanted to be a life coach herself. Now, Giblin works to help others get unstuck.
You might be stuck in a less-than-satisfactory job. You might be "stuck at the bottom of your to-do list," Giblin says. And you might even be stuck in a disorganized mess of a house or office. No matter what the sticky situation, though, Giblin can help you release yourself.
"I had somebody compare me once to a set of jumper cables. I said, 'Excuse me?' And he said, 'People just get stuck. They stop, and you come in and you provide enthusiasm and energy and focus. And you get people up and moving again," Giblin says.
Before delving into any problem, whether it is a career or clutter, Giblin first helps her clients figure out what exactly it is that they want. "When I talk to a potential organizing client, the first thing that I'll ask them is, 'What is your vision? What do you want to be able to do that you can't do now?" Giblin says. "Getting organized is really boring, which is why people don't do it. There's so many other things they'd rather be doing, but being disorganized prevents them from certain things."
Then Giblin helps her clients set priorities to determine an action plan for how to achieve their vision. For professional organizing, Giblin always starts in a place that will help create momentum by giving her client a sense of accomplishment. "You don't want to start in a closet or in a drawer because you put time and energy into getting decluttered and you can't see the results, and it can be very disheartening," she says.
Another major part of Giblin's process came from her friend Mariod Corbin Mayer, owner of Creative Catalyst Studio. When Giblin was at Mayer's studio, she saw a sign that read, "Do I love it? Do I use it? Does it raise my energy?" Giblin uses these three questions to help her clients evaluate what they have and what they want to continue having.
To learn more about how Giblin can help you get unstuck, check out PollyGiblin.com.
PHOTO CREDITS
Photographer: Neysa Ruhl
Model: Polly Giblin
Location: Fischer Homes