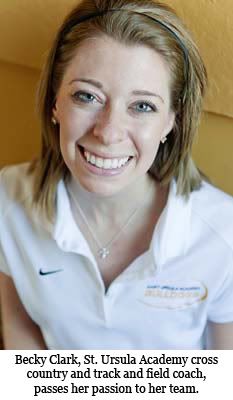 Becky Clark's passion for running developed at a young age. She followed that passion's track at St. Ursula Academy, and after running through her high school years as a Bulldog in both cross country and track, Becky Clark laced up her running shoes at Xavier University.
Just when it seemed like her running career would be taking a step back, St. Ursula offered Clark the opportunity to coach at St. Ursula upon graduating from Xavier. "It is helpful having gone to St. Ursula because it is such an academically intense school," Clark says. "There is a healthy pressure with all the commitment to academic and athletic excellence."
Understanding the sport of running at a collegiate level has proven beneficial. Just as Clark's former coach Jeff Branhan passed the torch to Clark, Clark uses her torch to light the fire of her team's running passion. But Clark owes her success to more than just great coaches, great techniques and a natural athletic ability.
It was both Branhan's great coaching ability and the bond of her teammates that led Clark to continue her passion for running. "Running is a very encouraging sport," Clark says. "It is hard at times, but it builds friendships because you are always helping each other out with workouts."
As the assistant cross country and track and field coach at St. Ursula, Clark brings this important bond to the table in addition to her athletic talents. "I know I needed someone to talk to when I was in high school, so it's great being in the same situation for them," Clark says.
This bonding experience goes even beyond coaching the young women at her alma mater, as she also has the opportunity to coach her younger sister, Sarah. "I have a passion for running, and to see how that grows in Sarah is neat," Clark says.
For Clark, running is not merely a hobby or pastime. "Running builds character, motivation and dedication," Clark says. "It has helped me with so many aspects of my life."
When she's not helping the St. Ursula Bulldogs to lengthen their strides and shorten their times, Clark works as a special education teacher for intermediate children at Margaret Rost School in Bridgetown, Ohio. "My uncle, who is my godfather, has Down syndrome," Clark says. "We have always had a close bond, so he had a lot to do with this path. I have always been involved with people of disabilities. It was kind of my calling."
So whether she's in the classroom or on the track, Clark lives out her passions by answering that call — the call to help others live out their own passions.

PHOTO CREDITS
Photographer: Neysa Ruhl
Model: Becky Clark

Location: BOOST…for meeting's sake