Career
Designing for the Dream Day
Designing for the Dream Day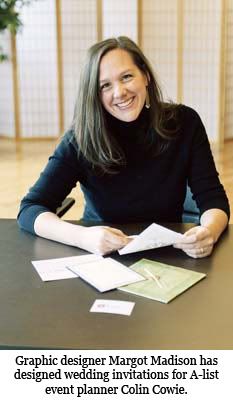 After working in corporate graphic design, local designer Margot Madison took her talents down a more fun and creative path, she says. She started creating custom-designed wedding invitations.
"Most of my friends were getting married, so I had lots of opportunities to work on invitations and new design ideas, and then ultimately, I just switched over to doing invitations full-time," Madison says.
Soon, Madison had gone from designing for friends to creating upscale invitations for Los Angeles-based A-list event planner Colin Cowie. To make her connection with Cowie, Madison requested to create the invitations for a Cincinnati event when she heard Cowie was set to attend. "When he came to town, we brought our portfolio and pulled him aside at one point, and he was really gracious and looked at our portfolio of work that we had done so far and the next week called us with a great job," Madison says.
Working for Cowie, Madison is able to use her talents unrestricted by a budget. "Ultimately, I used every printing process from foil stamping to engraving to offset
printing and die cutting. Literally every process you can do to a piece of paper, we did in order to achieve the look," Madison says. "And it included a silk covered book and then a silkscreen printed paper on the inside and on the backs of the invitations, just all kinds of special things where, normally, we might choose one, and Colin will choose everything. And he has the opportunity to do it, and as a result you have this invitation in particular was more than $100 each."
While Madison's creations have been designed for and sent to high-profile celebrities and featured in
national wedding magazines, she also designs for budget brides. "While Colin Cowie's people are fabulous and have unlimited budgets, which is great to work with, [I thought] it would be kinda fun to work with people who were more like myself, so I opened the retail store in Cincinnati," Madison says.
Madison's invitations start at $3 each (much more budget friendly than $100 a pop), and she can create an entire invitation suite with an invitation, RSVP card and reception information starting at about $5 each. Beyond creating the invitations, though, Madison also offers her insight to DIY brides through one-on-one design direction and even her blog.
To learn more about Madison and her exquisite work, check out MargotMadison.blogspot.com.

PHOTO CREDITS
Photographer: Neysa Ruhl
Model: Margot Madison and her work

Location: BOOST…for meeting's sake