Career
Local Secrets to Business Success
Local Secrets to Business Success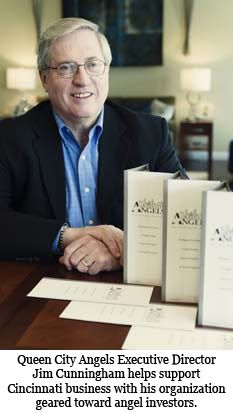 Queen City Angels
For aspiring entrepreneurs with genuine ideas, Queen City Angels (QCA) is here to help.
QCA has 35 angel (anonymous) investors who empower early stage startup companies, particularly those businesses with high-growth potential. "I call it the farm team in the venture capital industry," Executive Director Jim Cunningham says.
In the last 10 years, QCA has invested in almost 50 companies, which has created several hundred jobs. For example, from the start of the company, QCA helped fund Fortis, a Northern Kentucky company that makes security equipment for banks, and after the company has prospered over the last few years, it now has several dozen employees.
QCA takes time to invest in businesses within 150 miles of Cincinnati, so three quarters of their investment has been in this region. "We are where the rubber meets the road in innovation," Cunningham says.
Beyond the QCA financial support, the investors also offer their business expertise. More than 400 entrepreneurs have been educated in the two-day boot camp QCA created in 2001. "One of the things we have found is that entrepreneurs need practical help," Cunningham says. People have come from as far as Cleveland and Louisville to experience the boot camp.
QCA can help you with all of your practical needs as an entrepreneur at their next camp, June 6 and 7. You can find out more information at the QCA website QCA.com or contact Cunningham at jcunningham@thecircuit.net.
The Women's Book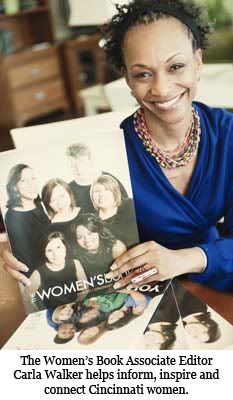 The Women's Book is just like pushing the "easy" button that you see on the Staples commercials. This is a one-stop-shop resource for women to be informed, inspired and connected with other women in the region.
Created and owned by women, The Women's Book creates an annual coffee table book that profiles local female leaders. The directory includes corporate and non-profit organizations, spotlights, advertisers, sponsors, and a special interest section with a theme of health and wellness along with finance this year. "We will never run out of women to profile as leaders," The Women's Book Associate Publisher Carla Walker says.
In addition to the coffee table book The Women's Book also publishes an online directory as well as an e-newsletter. And this month they are going to debut the Collective for Women, a community magazine set to come out three times per year (as opposed to the directory's annual publication).
"We really want to try to be a megaphone to promote the things that women are doing, so everyone can benefit from that," Walker says. It will help its reader to stay connected to women's views about different issues impacting their careers in their communities, local events, resources, and services with special interests.
A big reason The Women's Book exists is to connect women with one another. By connecting groups of women, they discover how other women flourish in their careers with success. "It's so encouraging to meet on a regular basis some women in our region who are doing some amazing things," Walker says. This connection strengthens the women in our region, which is the emphasis behind The Women's Book.
Beyond connecting women through publications, The Women's Book holds a few annual events, with one coming up March 29. Set at the Museum Center, this event serves as the launch for the Collective for Women.
So to make things simple, just press the "easy" button to take yourself to TheWomensBook.com and allow yourself to make one stop to be informed by, inspired by, and connected with other women.
PHOTO CREDITS
Photographer: Neysa Ruhl
Model: Jim Cunningham (top photo) and Carla Walker (bottom photo)