Career
Sculpting the Final Course
Sculpting the Final Course

When Teri Scheff was deciding her life's calling, she had two passions: art and baking. So she decided to pursue her love for art and flew out to California for school. After she graduated, she traveled around the country selling her artwork.
Locally, she exhibited her work at Summerfair and Winterfair (coming up Nov. 26-28 at the Northern Kentucky Convention Center). But she also found herself in Dallas, San Francisco and Los Angeles.
"Traveling the show circuit can be very, very draining. I mean, I didn't really have any friends except for people on the road because we didn't have time. … I just got to a point where I needed to get off the road," Scheff says. So, after winning a number of awards for her pieces and seeing the country from a traveling artist's perspective, Scheff returned to her other passion — baking.
She went back to school and trained with Graeter's for a little more than a year. While she learned some fantastic techniques for baking and icing cakes, Scheff wanted a little more out of her job. "I knew right from the beginning on that I was probably going to have to own my own business in order to do what I like to do, and that's the sculpture," she says.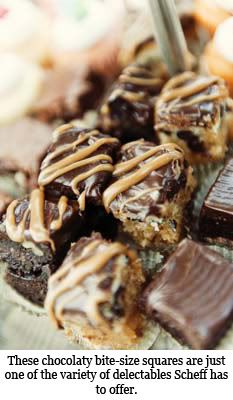 Now, Scheff has combined that artistic passion for sculpture and her love for baking into her company, Artrageous Desserts. "The Food Network and TLC with these cake shows have done a tremendous amount for my business because it's brought to the attention of the whole country and the world that anything is possible out of cake," she says.
And in making everything from Empire State Building and B&B Riverboat replicas to beer can groom's cakes and naughty bachelorette party desserts, Scheff has not come across a project request she cannot do, she says.
To top everything off, Scheff is using her clay sculpture technique to offer custom wedding cake toppers. Ordering will be available at the end of November, but Scheff is excited to give brides and grooms the chance to have their cake topper look like them — or at least a caricature version of themselves.
For more information about Artrageous Desserts or to check out more of Scheff's jaw-dropping creations, check out ArtrageousDesserts.com, call (513) 793-6627 or e-mail Scheff at dezert@fuse.net.

PHOTO CREDITS
Photographer: Neysa Ruhl
Model: Teri Scheff
Location: Cincy Chic office