Career
Living to Shop, Shopping to Live
Living to Shop, Shopping to Live

Kristie Sheanshang has spent almost her entire life working around the obstacles of her wardrobe to stay stylish. She went from saving babysitting money to buy Louis Vuitton to staying fashionable on a shoestring budget in Chicago to making the most of the maternity wear options through accessories.
Now, Sheanshang is putting that experience to work on your wardrobe with Flair, a personal shopping and fashion consulting company.
So as the holidays approach, Sheanshang can help you look your best (without the winter bulk) with Flair's "Closet Audit." For this service, Sheanshang opens those closet doors and evaluates your wardrobe. "The advantage of someone seeing your closet is they're not emotionally attached to the clothes," Sheanshang says. "So you may have a piece of clothing that you love because someone gave it to you or just evokes whatever memory, but it might not look so good on you."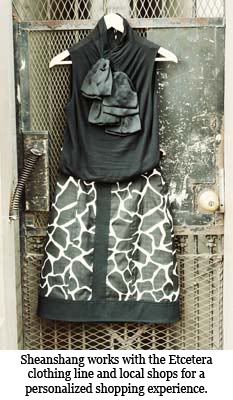 During the Closet Audit, Sheanshang helps you create entire looks from the clothes and accessories you already have and suggests which items to sell or alter. As you may never have had a piece of clothing altered in your life, Sheanshang can recommend tailors and even go with you to help you through your first alteration experience.
After going through your closet, Sheanshang also comes up with a shopping list of specific pieces to fill out your wardrobe. You can use your new-found fashion confidence to tackle the list yourself or stick with Sheanshang's expertise and have her be your personal shopper.
Flair's personal shopping services extend beyond the basics of filling your wardrobe, and they can help in finding that perfect holiday attire. With all of your holiday shopping needs, you can let a professional take your fashion list off your hands so that you have more time to shop for gifts, decorate the house and complete all of your other holiday to-dos.
Sheanshang will meet with you, discuss your needs and then head to the shops. As an Etcetera clothing line representative, Sheanshang has some options readily available, and she also works with local boutiques that allow her to bring clothes out of their stores and to your home or office. After she gathers some looks that fit your needs and style, you can try everything on and make your selections.
For more information about Sheanshang and Flair, head to Dare4Flair.com.
PHOTO CREDITS
Photographer: Neysa Ruhl
Model: Kristie Sheanshang
Clothing: Etcetera
Location: Cincy Chic office