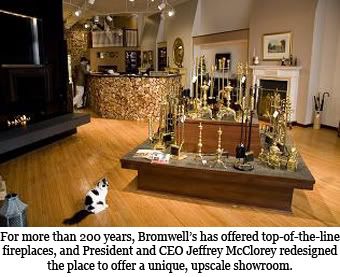 For nearly 200 years, Bromwell's has helped Cincinnatians heat things up with its fireplaces. But instead of keeping it an old-fashioned shop, President and CEO Jeff McClorey sparked a new look and feel for the place.
Before he revamped the place, McClorey traveled the nation to check out other shops in the industry. "I wanted to see where the industry was, and when I went around both regionally and also traveled around the country, I found that the industry was really dominated mostly by 'mom and pop' type establishments that were modest operations," McClorey says.
Throughout his research, McClorey envisioned a Bromwell's unlike anything else he saw. (Who else uses firewood as a major part of their decor?) Instead of the typical clutter he saw in other shops, he created clean, upscale displays to show off what Bromwell's always has been known for, the best products in the industry.
McClorey expanded Bromwell's by buying the space next door, which gave him the opportunity to achieve this look for the shop. "I opened up the second floor and put in a showroom on the second floor that extends into
the other building, so now I have 7,000 square feet of showroom on the second floor in addition to my 3,000 on the first floor," McClorey says.
With this expansion, the shop's redesign also entailed the addition of a fine arts gallery. "We used to sell the print art, and now we have the fine art, which has been pretty well received," McClorey says. "It's a joy to do it as well because I love art and to be around artistic people."
Beyond the art, Bromwell's also will soon include a full furnishing line. The store will play host to a preview party in January to kick off the newest addition to the Bromwell's store offerings.
McClorey didn't just revamp the physical store, though. He also revamped the services side of the business to offer a more comprehensive approach for customers. From start to finish, a customer looking to install or remodel a fire place can count on Bromwell's instead of having to deal with multiple vendors for each step of the way. This consolidation of services allows projects to be completed in a three-to-six-week timeframe from the first meeting to the finished product.
For more information about this Cincinnati staple, check out BromwellCo.com.

PHOTO CREDITS
Photo courtesy of Bromwell's