1.21.2008 – Quote of the Day – Megablog
"When I work I relax; doing nothing or entertaining visitors makes me tired." ~Pablo Picasso
While I was certainly working a lot, I sure don't feel relaxed as apparently Picasso felt after a long stint of work. Wow was last week incredibly busy! I didn't have time to blog even ONCE! Very sorry about that… I plan to update you on all of last week's fun and exciting happenings in this *cue the dramatic music* MEGABLOG!
First and foremost, we had our 1st birthday party last Tuesday where we toasted to a successful first year and many more to come. Click here to view pictures and click here to listen to KISS 107 fm's Travelog that they taped at our party. Thanks to Jeff and Tim from KISS' morning show for coming out!
I also saw two very good movies, Cloverfield (click here to see pics from the Premiere happy hour we attended) and Sweeney Todd. I recommend both, but not for the gore-shy.
I did a ton of shopping… Forever 21/Guess Outlet at Cincinnati Mills (FABULOUS BUYS!) and had some yummy food at Buckhead in Newport (hands-down, has the best panoramic view of the city).
We're getting revved up for our Cincy Chic Ladies Night at Latitudes in Anderson this Thursday, so we hope to see you there!
And every time I go to events, people tell me how much they enjoy my Dino pictures. So, here are a couple. He's getting so smart! He's learning how to unzip the pillow in his kennel to eat all the stuffing out of it…how to jump up and nab things out of our hands (he loves sunglasses)… and kick open doors to rooms he's not supposed to be in. So smart in all the WRONG ways! 🙂
Oh well… he's still adorable, so that makes up for it. In fact, Pete and I are going to enter him in to win the cutest dog contest.
Doggy's first bath…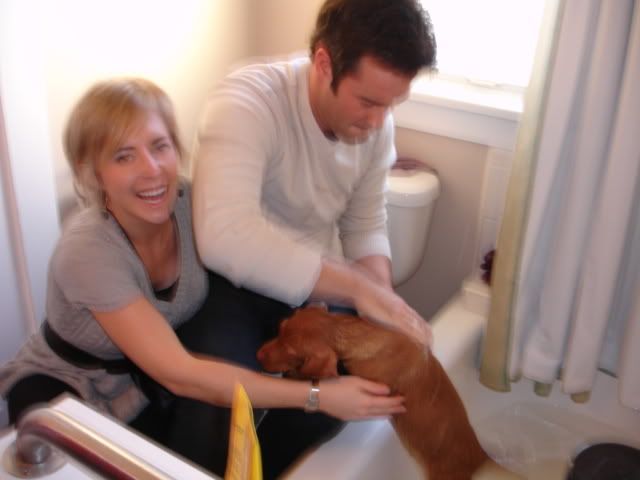 Sticking out his tongue…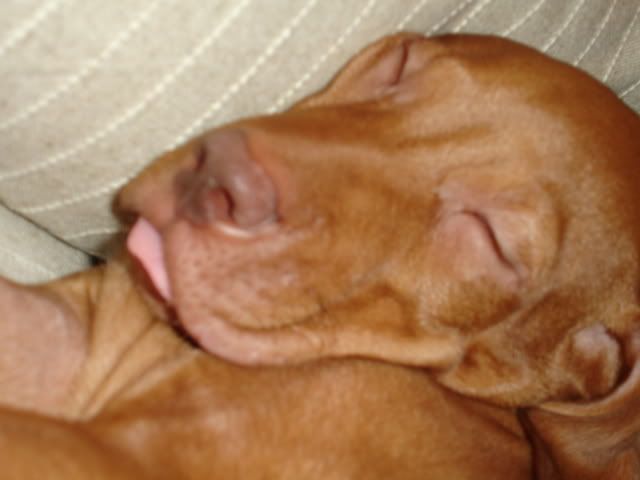 Lounging on his favorite chair with his favorite toy…life is "ruff" isn't it?
And while I'm posting pictures, I have to share the funniest picture ever with you. A friend of mine recently got married and her photographer took the below picture… he called it "bride on the mind" and was completely serious. He actually took this profile shot of the groom and superimposed a tiny bride on his face… I hope you think this is as hilarious as I do!