12.14.07 Quote of the day – WE Celebrate
"I get to live my dream and get an award for it!" – me 🙂
Yup, you guessed it! Yesterday, I (on behalf of our amazing publication, cincychic.com) was honored with one of the highest distinctions possible: The Best New Product or Service 2007 Women's Business "WE Celebrate" Award, given by the Cincinnati Regional Chamber of Commerce. I'm so so so excited, but completely honored and humbled at the same time. The quote above is what I managed to get out in my unprepared acceptance speech, while holding back tears of joy. Click here to learn more about the other amazing women in this city that won awards.
I just wanted to let you know how proud I am of our now highly decorated e-zine, and also thank all of you subscribers out there for making it possible. If you haven't yet subscribed… hop on the chic bandwagon and prepare yourself for a fun ride. Click here for your FREE Cincy Chic subscription!
Sincerely,
Amy
Here are some pics!
Giving my acceptance speech that I pulled out of my you-know-where on the spot.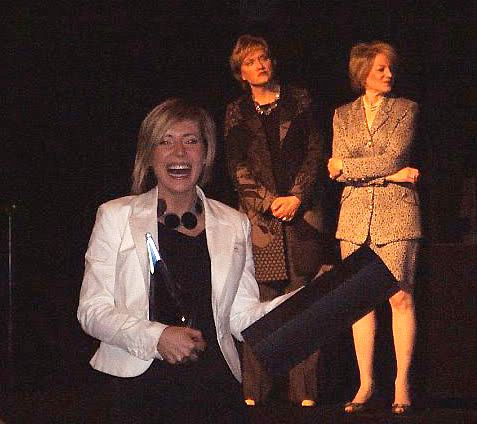 My personal favorite… look how excited and shocked I am!!
Pure Romance's Tisa Powell and me
Enjoy the Arts' Myrita Craig…the one that nominated me. PS how cute is her raincoat?!
Cincy Chic's fashionista Missy Scalia, me and Online Editor Maureen Jacob
Mark and Jenny (my accountants) from Albertz CPA