Can't sleep… thinking about bras…
Can't… sleep… bras… on… mind… AH! It's 2:53am on the night before the hugest event ever for Cincy Chic and I can't sleep! I'm just reeling with excitement, and yes, nerves.
Today – all day – I went around Cincinnati to pick up the bras. We have about 70. And they are BEAUTIFUL! Thank you so much, Cincinnati, for participating! 🙂
Tomorrow, we'll get up bright and early to hang them up on Fountain Square. Should be really neat. You should come out and join us. There will be lots of free stuff given away – manicures, back massages, salsa dancing lessons, Panera Pink Ribbon Bagels…
So, not only am I excited about the next five days' events, but I'm also pumped that we're taking over the city with signage. Seriously, we're everywhere. If you haven't seen signs about Cincy Chic or this bras event, you live under a rock. Check out these great pics I took of our signage:
Poeme window display in Hyde Park on Michigan Ave.

Panera Bread tasting tables

Havana Martini Club windows

Sidewalk in front of Havana Martini Club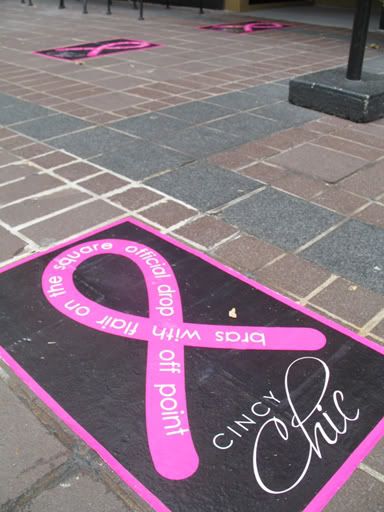 And… me! (As if I wasn't enough of a walking billboard for Cincy Chic! haha 🙂 We got a bunch of T-shirts made! Bring a bra to the square and get one!

Maybe instead of counting sheep, I should count how many places have Cincy Chic logos plastered all over them! 🙂
Have a good night… hope to see you on the Square!!