So… a random thing happened when my fiancee, Pete, and I went to Frisch's last night… when we were walking out, we noticed some Big Boy figurines on top of the dessert case. And these weren't just any Big Boy figurines. Oh no, someone TOOK THE TIME to delicately paint four figurines to represent each member of KISS. And I thought I had a lot of time on my hands… I attached a picture because I knew you wouldn't believe me.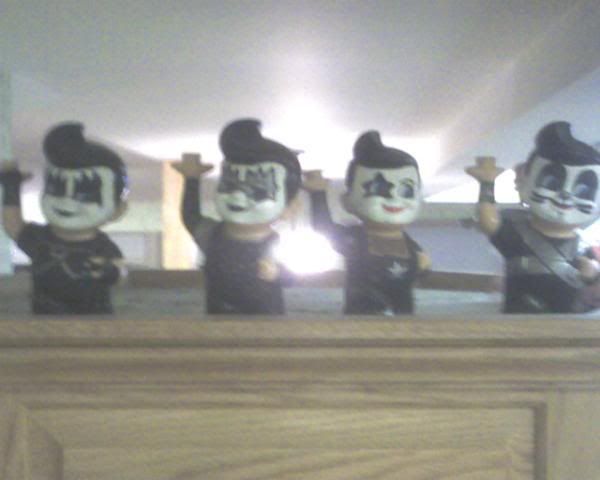 On another note, I wanted to let you all know that I just recently got spinning instructor certified. Being such a work-a-holic, I decided that the only way I could get in a workout is if I got paid for it!
So, I'm starting to sub at The Gym at The Carew Tower, and I'm officially teaching every Saturday at The Fusion Studio in Ft Thomas from 9am-10am. Today, I'll be at the The Gym at The Carew Tower from 12:20-1:05. Weird times, I know!
PS: Ever heard of "spin rage"??? Apparently, I'm involved in quite a dangerous sport!!!
Ummm… for other random things, make sure you come out to the new Woodhouse Spa in Old Montgomery on Saturday for their grand opening. It's being catered (for free) by Boca. I'm really excited about it (I'm a sucker for free food!) What are you excited about doing this weekend? Use the comments at the bottom of this page to answer!
Pete wants to go on a putt-putt date, but he's like a menopausal woman the way he sweats when it's over 65 degrees. Last time I checked, it's still a billion degrees out… so, does anyone know of some good INDOOR putt-putt places?
Have a great weekend!