Editor in Chic: A Once-in-a-Lifetime Adventure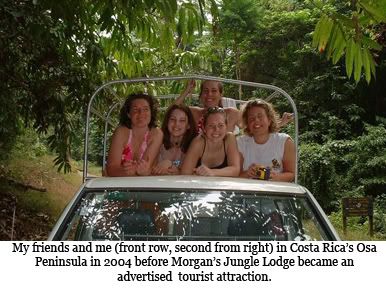 It was my junior year of college and it was time to plan spring break. The year prior, my friends and I did the typical Ft. Lauderdale, pack in a small hotel room and pickle your liver kind of trip that every college kid does.
But my friends and I were disillusioned with the typical spring break scene at this point. We wanted something different. We wanted something that no other college kids were doing.
One of my friends knew Dirk Morgan, one of the five Morgan brothers whose dad started Morgan's Outdoor Adventures, which you can read more about in this week's social story.
Dirk apparently told my friend in passing that if she ever wanted to bring friends down to his summer home in Costa Rica that she was more than welcome to bring them down. It was one of those things you offer someone, never really expecting them to take you up on it. But we did and he couldn't have been more thrilled.
He had recently built (yes, he did, by hand) this little sustainable paradise in one of the world's most untouched areas, the Osa Peninsula. He was excited to have our group of spring breakers down to see his work. Not only that, but our group was hungry for adventure.
We flew into San José, Costa Rica's capital city. We then took a hopper plane over a jungle and arrived in the Osa's only town of Puerto Jimenez on the Golfo Dolce. We took a little buggy 15 minutes into the Osa's countryside.
We quickly learned that Dirk is the adventurous type. Upon arrival, he was sharpening his machete. He looked up, smiled and directed us to our tents, in which you could zip open for an oceanfront view. And we ended the day by kayaking through the waves. I should probably note that in the entire two hours of kayaking, I never saw another building or tourist.
When we got up the next morning, Dirk was finishing up a Tai Chi routine and was about to head out on a long-distance barefoot run. That was a little too much adventure for us, so we relaxed on the beach, sipped some incredible Costa Rican coffee and ate fresh fruit prepared for us by Dirk's mom.
Dirk didn't let us sit on our laurels for long, though. We went surfing on some of the biggest waves I've ever seen. We rode horses bareback on the Osa's breathtaking beaches. And probably the biggest adventure of all: an 8-mile hike through the rainforest.
This wasn't a guided tour, on a well-worn path through some plants. This was Dirk getting a Costa Rican man, who also had a well-sharpened machete, to hack our way several miles into a thick and lush rain forest. Our destination: A lagoon. Mind you, we didn't have a GPS or cell phones with us. We were relying on Dirk's friend, who we hoped had a stellar sense of direction.
Turns out he did. Dirk, his friend and their machetes led us right to the lagoon. It was so disgustingly hot, we all jumped in. It wasn't until later that Dirk told us how much gators, snakes and flesh eating fish love lagoons. Gulp.
After our dip in the lagoon, we headed back. Dirk would often slice through the air, cutting off a piece of starfruit for the group to have as a snack. But one time, Dirk's friend sliced through the air and killed a small snake that was just a few feet from my leg. In his broken English, he said "The smaller, the deadlier," he looked me in the eye holding up half of the snake. "This one very deadly." He dropped the snake, turned around and kept walking.
I'll never forget that. It was then I realized this wasn't your typical rainforest hike. Dirk wasn't your typical host. And this certainly wasn't your typical trip.
I think about that trip often and how it was so unique and unlike any other vacation I had ever been on, or will will ever take again. When we were researching adventures for this issue, we did discover that Dirk is now making a tourist attraction out of his little Osa compound.
At first I was sad that our adventure was being duplicated. But then I realized that even though Dirk is now commercializing his little Costa Rican getaway spot, people won't get exactly what we got the pleasure of experiencing. They won't get to have breakfast prepared by Dirk's mom, they wont get the tours with Dirk's snake-spotting friend and Dirk's probably been advised by his lawyers to not take people to the who-knows-what's-lurking-in-there-lagoon.

But I'm glad I did. Even though I was one small snake away from not being able to tell you this story!