Throwing a Fashion Fiesta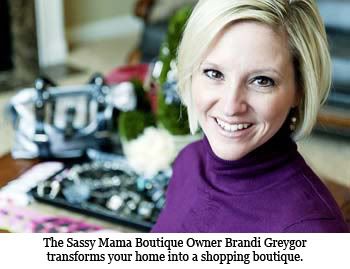 You and your gal pals don't need to scurry off to a mall for some quality shopping time. Instead, The Sassy Mama Boutique Owner Brandi Greygor can transform your home into a boutique for a more intimate shopping experience.
Now, an at-home party can be more stressful than an escape to a store, but Greygor does much more than just put products on display for her clients. Greygor works to make sure the party is successful, not stressful, and she uses her experience to help each of her party throwers tackle four key points.
1. Date
"Date is critical. There are a few times of year that work better than others, and there are a few times of year that are the absolute worst," Greygor says. "So the first thing we would do is navigate a date, not just based on our own personal schedules but on the broader schedule of what the target audience might be up against."
Greygor has found that a couple "sweet spots" in the calendar work with women's schedules and are not competing with other major events, including everything from holidays to kids' sports schedules.
2. Atmosphere
"Creating that environment that transforms your home into a shopping experience is what's most important," Greygor says, and it's much more than just the products Greygor brings. She works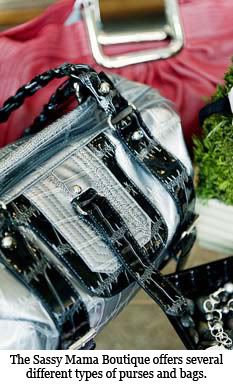 with her clients on setting the atmosphere to make sure no detail is overlooked, starting with the invitation. "I don't usually like to just send out a flier and show up with a suitcase full of stuff," she says. So she puts more thought into how the party as a whole can be a success.
3. People
"No good party goes without having people," Greygor says, so as mentioned in the "Atmosphere" section, Greygor helps party throwers with their invitations. But she also follows up with pre-event reminders to keep your guests thinking about the party and excited for the big night.
Beyond the invitations, Greygor generally recommends the "bring a friend" concept, as The Sassy Mama Boutique products lend themselves to some great girl time. And shopping's always more fun with a friend.
4. Product
Obviously, the product is important to The Sassy Mama Boutique's at-home parties, but the type of product is just as important. Greygor sells mommy items like kids clothes and diaper bags, but she also includes several items like purses, jewelry and other
accessories geared toward the woman in the mom. So she really caters her product selection for the party to your audience. Don't have kids? Greygor will make it an accessory bonanza.
Beyond her products, though, Greygor generally recommends bringing in another non-competing at-home party vendor to add to the fun. In the past, Greygor had a trunk show where Cakes by Darlene provided cakes and amazing pastries, so shoppers had delicious nibbles without the hostess having to worry about preparing all of the food.
To start setting up your at-home shopping experience, check out SassyMamaBoutique.com. And if you can't wait till the party to start accessorizing, use the code NEWJEWEL30 to receive 30 percent off your online orders of the Stiletto Mob jewelry line made exclusively for The Sassy Mama Boutique. (Offer expires Jan. 31.)
PHOTO CREDITS
Photographer: Neysa Ruhl
Model: Brandi Greygor
Makeup: CATTIVA (available through The Sassy Mama Boutique)

Location: Fischer Homes