Fashion
Give Your Old T-shirts New Life
Give Your Old T-shirts New Life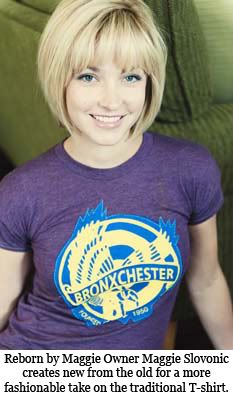 We've all been there. You just found a hole in your favorite T-shirt. Or maybe you got a T-shirt as an event or group participant, but the smallest shirt size they had left is three times your size. Or even still, you love the design, the shirt's a technical fit, but the "unisex" shape doesn't do too much for your figure.
You're never going to wear the shirt again, but your emotional attachment makes it difficult to part ways. Rather than sticking it in the back of the drawer, never to see the light of day again, you might want to check out Reborn by Maggie.
After facing the same problems with her own beloved T-shirts, Maggie Slovanic decided to take action. First, she put some curves in those shapeless unisex shirts. Then she experimented with cutting out the design from one T-shirt and sewing it onto another shirt that was more fitted to her body. And Reborn by Maggie was born.
Slovanic kicked off her business in Pittsburgh and moved it to New York City before
coming to Cincinnati, where she lives now. She started off taking interesting designs from one T-shirt to the next, and by going to independent artisan markets week after week, she learned to adjust her design eye to fit what the customers wanted.
Just before Slovanic left the Big Apple, Real Simple magazine featured Reborn by Maggie in a story showcasing 50 great gift ideas all less than $50 in its 2009 Christmas issue, and that's when the custom side of her business started booming. Beyond the T-shirts women wanted to fix for themselves, Slovanic saw an influx of wives getting rid of their husbands' ratty old T-shirts by using Slovanic's talent to repurpose the design into a less embarrassing, public-appropriate shirt.
Now that she's back in the Queen City, Slovanic maintains both sides of her business. You can purchase shirts just for the cool design Slovanic has created or you can have her create a shirt out of a design you already have.
While Slovanic recognizes that everyone has access to the American Apparel T-shirts she uses and can cut
out and sew the design themselves, Slovanic's unique style is her trademark. The biggest advantage to have Slovanic is that she has an eye for seeing just what shape will work best to cut out the design. Then, when she's sewing the design on it, she uses some funky stitches and fun thread.
For more information about Reborn by Maggie or to have Slovanic give new life to your old T-shirts, check out RebornByMaggie.net.
PHOTO CREDITS
Photographer: Neysa Ruhl
Model: Maggie Slovanic