You might not think substituting one common, negative word for a positive one could change your whole perspective on life. It might make you feel better for a few minutes, but it won't help you deal with anything big, right? Wrong. At least that's what Denise Taylor, founder of We Get To will tell you.
When her 11-year-old daughter Jonnae was diagnosed with leukemia, Taylor knew she had to find something optimistic to hold onto, and fast. "It was very clear," she says. "I told myself: 'The only way you're going to get through this is to focus on the positive, even if it means you're surrounded by negative.' "
Soon afterward, Taylor found the inspiration she needed through a televised Joel Osteen sermon. He suggested that instead of saying, "I have to" in our daily lives, we replace it with "I get to." Taylor shared the philosophy with her daughter that same day. Jonnae embraced it, and a thought revolution snowballed from there. "We had a choice: We could either be the victim or the victor," Taylor says.
The "We Get To" mindset sparked the beginning of several life-changing events for Taylor, from authoring a book to hosting inspirational speaking gigs. It even played a vital role in helping her cope with Jonnae's eventual death, which Taylor now optimistically refers to as her "heavenly birth."
Today, Taylor uses her positive philosophy to celebrate Jonnae through a weekly event they created together: a fun-filled dress-up experience called Wacky Wednesdays.
The idea began a little more than two years ago. Jonnae was staying at Cincinnati Children's Hospital for a bone marrow transplant while her school back in Louisville was celebrating its spirit week. She received an e-mail from her teacher on Wednesday of that week, explaining the concept of Wacky Wednesday. Jonnae was disheartened to be missing out, but her mom knew what to do. "As a mother desperate to put a smile on her child's face, I told her that if she wanted to dress me wacky, she could," Taylor says.
Wacky Wednesday made such a difference in Jonnae's spirits that Taylor knew she would have to keep up the eccentric dress-up every week. "It was fun," she says. "We forgot how sick she was that day with the distraction we created with silliness."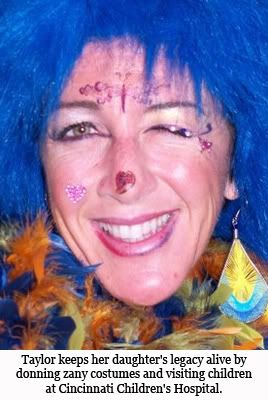 Taylor and Jonnae continued to celebrate Wacky Wednesday until Jonnae's "heavenly birth," and Taylor now keeps her daughter's legacy alive through the weekly parties. Each Wednesday, she dons her zany costume and visits the children at the local Louisville hospital and Cincinnati Children's Hospital. Taylor passes out hats, boas, glasses, wacky accessories, fake tattoos and several other ornaments to the kids, families and staff members at the hospital. "People can choose to be mildly wacky, or they might be a little more bold," she says.
Taylor hopes to, as she says, "choose silliness over sickness" and build on the concept of casual Fridays to help expand Wacky Wednesdays. She believes that enforcing goofy garb as part of hospital dress code will build personal experiences and give the event staying power.
What first began as a weekly ritual at Jonnae's oncology clinic is well on its way to becoming a laughter-prescribing movement with endless possibilities. "It's something I see as being easier to do in the hospital but not impossible for the world to participate in," Taylor says.
She is currently aiming to earn a Pepsi Refresh Grant for a program that will combine "We Get To" for children in school with Wacky Wednesdays for children unable to attend. Taylor also sells "I Get To" bracelets at her speaking events and through her Web site. Proceeds from all bracelets sold go toward raising funds for Wacky Wednesday.

PHOTO CREDITS
Photos courtesy of Denise Taylor