With online style guides and trendy e-magazines now available at most fashionistas' fingertips, it's no surprise that many have forgotten to think of books as a primary design source. HighStreet Cincinnati Co-founder Leah Spurrier has worked with her team to compile a collection of paper-bound treasures essential to anyone with a love for design.
HighStreet's Web site defines the boutique as both a design studio and urban lifestyle store, but it's book collection also has sparked the interest of media and design enthusiasts nationwide. City Beat even recently credited HighStreet with having the area's best book selection, comparing it to the prestigious Wexner Center in Columbus.
Deciding what books to feature on HighStreet's shelves is a process near and dear to Spurrier's heart. She often uses her time at home to fill out book orders and then shares them with the staff to hear their opinions. "We're starting to build a reputation for having a very particular kind of bookstore here," Spurrier says. "There's a certain trend to our books, but we have a lot of historical books with a few classic novels thrown in."
Most books in HighStreet's wide selection fall under the categories of contemporary art, architecture, fashion, culture and travel as it relates to culture. Spurrier shared a few of her favorite sources for fashion in clothing and the home.
1. Vogue Living: Houses, Gardens, People — Hamish Bowles
Spurrier describes Vogue Living as an "elegant lifestyle book" filled with sumptuous pictures and several interior shots. Authored by Vogue's editor at large, the book focuses on the living and lifestyle of many famous and notable people.
One of Spurrier's favorite spreads features Sofia Coppola working in her messy office. "It's very human, and a little voyeuristic," she says.
2. High Style — Ron Woodson and Jaime Rummerfield
Similar in some ways to Vogue Living, High Style features the work and insight of the Woodson-Rummerfield notable interior design team. Through topics lik
e "Mining for Gold," "Make it Work" and "I Love L.A.," they discuss design in general terms for anyone who might be interested.
"It's like the designers are talking back at you about their work, showing pictures of their work and photos of who they've worked with," Spurrier says. "It's a really hot book."
3. Modern Glamour — The Art of Unexpected Style— Kelly Wearstler
Known for her design work on the Viceroy Hotel and appearances on Bravo's "Top Design" reality show, Wearstler used this book to showcase her inspiration: 20th century interior designer Dorothy Draper.
Wearstler is a designer who likes to incorporate striking elements, a characteristic obvious from the book's lemon yellow and black and white cover. "This book was really revolutionary to bringing impact back into interior design," Spurrier says.
4. I Wish I Worked There — A Look Inside the Most Creative Spaces in Business — Kursty Groves
I Wish I Worked There features some of the world's most powerful and innovative companies, explaining how they approach their workplaces and create environments for their employees to be creative.
Even cooler, HighStreet is spotlighted in the book. Spurrier and the store were published for work they did for Procter & Gamble for the Clay Street Project. "I think this is a big movement in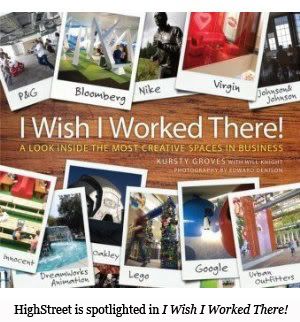 culture to try to take corporate environments and bring them to something that's a little more inspiring," Spurrier says.
5. Style A to Zoe — The Art of Fashion, Beauty & Everything Glamour — Rachel Zoe
As a woman focused on building clientele herself, Spurrier is highly respectful of both Zoe and her book. Style A to Zoe highlights iconic fashion people and brands, in Zoe's opinion, often through the use of visuals like photographs and diagrams.
Zoe also isn't afraid to name names, pointing out brands you should use and ones you should avoid. As one of the most popular celebrity stylists in the fashion world today, Zoe's opinion is one Spurrier says you should trust. "I think if you read this book, you would probably be a little more stylish," she says.
6. Eileen Gray — Eileen Gray and Francois Baudot
Gray is an accomplished female architect and designer with a tremendous following, especially by collectors of modernist pieces. Her self-titled book chronicles her work through black and white photographs.
In a culture where female designers and artists often don't receive the same credit as men for working just as hard, Spurrier believes it's important to recognize successes like Gray. "I like to have books that empower women," she says.
Interested in a bit of light reading? Check out HighStreet's offical blog at HighStreetBlog.com.