With growing teens and changing trends, you might as well put your and your kids' wardrobes on a revolving door. But that ever-changing wardrobe isn't always easy on the pocketbook. UrbanXchange breaks that rule as the exception.
This brand new resale shop opened its doors for business Sept. 10 after stocking up on the latest looks for "teens and 20s." And it's loaded with brand names, designer labels and trendy apparel.
The biggest difference with urbanXchange, though, is that you will receive 50 to 70 percent off the original retail price. "We'll become your 'go to' store for jeans, tees and hoodies, but we also have all the necessary accessories to put together your perfect look," Owner Sue Hater says. "We carry shoes, boots, purses, scarves, belts, caps and hats, and lots of jewelry. We also have homecoming and casual dresses for the gals."
While you can enjoy the steep discount, you won't have to sacrifice the look with a rip or stain. "UX is all about brands, yes, but we insist on great quality, too," Manager Jodie Bergantino says. "You won't have to sift through the junk to get to the good stuff. It's all good!"
And Sue, Jodie and Manager Holly Lazarus, have the experience to spot that quality. Sue, Jodie and Holly have 20 years' experience in the resale industry. This mother/daughters team owns and operates three upscale ladies' resale shops in the Cincinnati area.
But with urbanXchange's focus on teens and 20s, the women supplement their own experience by hiring on-trend teens who are more in-tune with their peer consumers. This means that if you're struggling to be that hip mom, you can get some guidance as you shop for your teen.
One of three 2nd Chance Upscale Resale Shoppes, is located just a couple doors down from urbanXchange. "2nd Chance is geared toward women 25 to 85 years old and carries petite to plus sizes," Holly says. "Like UX we also carry every accessory you need for a complete look."
A chain-link fence motif brings in an urban edge while spacious fitting rooms and a red leather couch make for a comfortable shopping spree. Even the racks add to the overall experience as they aren't crammed together or overflowing with too many hangers. The organization by size and color also helps to make your selection an easy one.
The store also caters to its customers with its evening and weekend retail hours. Monday through Friday, you can shop from 3 p.m. to 8 p.m. Saturday sales run from 10 a.m. to 5 p.m., and Sunday, from noon to 5 p.m.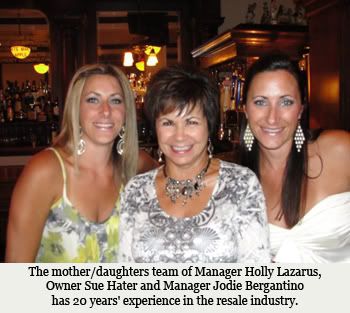 If you're looking to make a little money as your or your kids' wardrobes revolve out the door, urbanXchange always is looking for new merchandise to sell. "We pay cash for favorite teen brands like Hollister, Abercrombie & Fitch, American Eagle, Forever 21 and so many more," Jodie says. "Bring them in freshly laundered, free of stains, tears or excessive wear, neatly folded in boxes, bins or baskets. The better the brand, the more in demand, the more we pay."
For more information about urbanXchange, check out ShopUrbanXchange.com or head to 11800 Springfield Pike. To take a tour of the store, click the play button below.
Editor's Note: This is a special advertising section provided by urbanXchange.
PHOTO CREDITS
Photos courtesy of urbanXchange