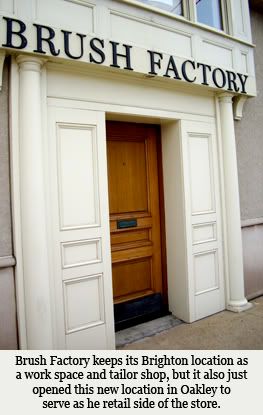 Back in January, we wrote about Brush Factory in our "Boutique Week" story. Now, less than nine months later, we're excited to announce that this local boutique is expanding.
Brush Factory keeps its Brighton location as a work space and tailor shop, but it also just opened its new location in Oakley to serve as the retail side of the store. The unique concept still draws its merchandise from local designers that can use the Brighton location to create the works available for purchase at the Oakley store.
To find the location for the retail store, Owner Rosie Kovacs looked in several different neighborhoods before landing in Oakley. "I just felt like I fit best here because there's not really a specific nature of the neighborhood yet," she says. "I can kind of do my own thing and see what evolves from there."
The store, located on the second floor of the building across the street from Boca, offers quality handmade work. "The only thing I'm trying to communicate to the customer is that it's not a normal retail store," Kovacs says. "Because we create and make everything ourselves, it doesn't really follow industry timeline, so it's a little slower, which I'm hoping people will understand."
In addition to the new location, Brush Factory now is offering classes through the Brush Factory School. The first class will be 1 to 3 p.m. Oct. 17, 24 and 31. The total cost for the three classes is $90, and the course will teach you basic sewing skills.
Right now, the classes are set to cover the basic sewing skills, but depending on the interest level, Kovacs also might expand the Brush Factory School to include design and simple garment construction classes.
Another future change for Brush Factory will come with the winter line with the introduction of menswear. "I feel like the male customer is kind of left out around here, and I have a lot of friends who have been interested and asking about it.… I think we're moving into a time where men are really wanting to find good stuff that's not normal and interesting," Kovacs says.
To learn more about Brush Factory, check out BrushManufactory.com or head to their retail location at 3227 Madison Road.
PHOTO CREDITS
Photo courtesy of Rosie Kovacs