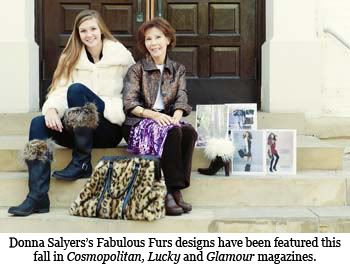 When it comes to faux fur, there is no place in Cincinnati that knows the trends better than Donna Salyers' Fabulous Furs. Salyers' designs have been featured this fall in Cosmopolitan, Lucky and Glamour magazines. And she designs and makes the pieces right at her Covington showroom, like she has for the past 21 years.
Faux fur quality has increased in the last few years, she says. One trick of the trade is to have a two-tone look to make it more realistic to the naked eye. "Usually, things that have a realistic look are the most popular," Salyers says. "But if you want flashy, we've got it."
With fur all the rage in fashion, Salyers shares four
ways any woman can incorporate faux fur into her fall and winter wardrobes:
A ruffled scarf updates traditional fur with a nod to today's trends. Fabulous Furs carries this piece in five different colors to make it even easier to accessorize with fur.
The second piece is a cropped jacket, and the third is a cropped vest, with the Mongolian lamb as the most popular for both of these pieces. "If someone isn't too familiar with fur, we don't try to put them in something bulky," Showroom Manager Daniela Carrico says. "A vest is a perfect example."
The final piece is one of her bestsellers of all time: boot toppers that transform nearly any pair of boots into a seemingly fur-lined find. Available in a variety
of colors and retailing for just $39, this is an affordable way to incorporate the trend into your wardrobe. You can wear them around the bottom of a coat's sleeves or top off a boot for an instant change in look, she says.
"I was twirling a piece of fur on my arm, and I said to myself, 'Oh my gosh,' " Salyers says about the day she developed that piece. She took the inserts on QVC a year ago, where they sold $10,000 worth a minute in four minutes.
"You don't have to spend $200 to update something," Salyers says of most of the products in her showroom. Carrico recommends the faux fur leg warmers. Retailing for $49 a pair, they can be worn over boots, pants and jeans.
"It's not too hot or too cold, but is something that people can just wear anywhere," Daniela says. "They are selling like crazy."
PHOTO CREDITS
Photographer: Neysa Ruhl
Model: Ashley Sohngen and Donna Salyers (top photo); Ashley Sohngen (bottom photo)
Location: Cincy Chic office