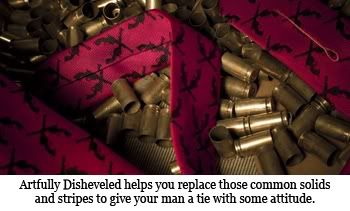 People really mean it when they say, "It's the thought that counts," but they still want you to think of a really great gift. Well, we're here to help you make that happen with the men in your life.
Check out these personalized presents that show you have put some thought in your purchase without sacrificing the quality of your buy.
All Tied Up
We understand that it's hard to buy for a guy. And we've all reached for that impersonal tie rack a time or two because every guy can use another tie, right? While the men in your life might need a new tie, quickly grabbing one to just check off your list isn't the most thoughtful way to handle the holidays.
Instead, may we recommend replacing the common solids and stripes with a more unique twist — say one with fighter jets or revolvers in the design? Match the design to your man's personality and interests to take his tie to that next level. To make it happen, check out Artfully Disheveled and Arbitrage, both companies that feature Cincinnati designers.
Cuff Him
It's easy to buy for women because jewelry comes pretty much as a one-size-fits-all package, and society helps out with little hints like, "Diamonds are a girl's best friend."
Well, now you can take advantage of that one-size-fits-all jewelry idea with cuff links.
These little guys work for more than just a wedding day gift for your hubbie-to-be. They fit perfectly in a stocking or under the tree for your husband, dad, grandpa, best guy friend or any other man in your life.
To add that personal touch to the cuff link gifts, check out Smallprint. Local representative Holly Chasar can help you turn your child's hand print into a cuff-link keepsake.
Don't have kids? Follow Cincy Chic Publisher Amy Storer-Scalia's lead and use your dog's paw print. Diamonds may be a girl's best friend, but now you can use man's best friend to turn those cuff links into keepsakes.
Contact Chasar by e-mail at holly@smallp.com.
Initial Here
Men seem to have it easy when it comes to clothing sizes. Just take a couple measurements, and you can buy any arti
cle of clothing out there. But when it comes down to it,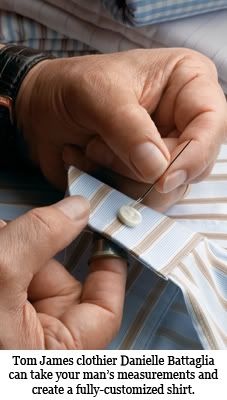 men actually are limited to those numbers and don't necessarily get a tailored fit. They might have longer arms, a longer torso or a wider neck that throws the rest of their shirt out of proportion.
To show that you understand their dilemma, treat the men in your life to a custom shirt this holiday season. Tom James clothier Danielle Battaglia offers at-home or in-office consultations, where she can take your man's measurements and shirt preferences t
o create a fully-customized shirt.
Beyond the sleeve length and chest width, you even can have the shirt customized with a monogram or signature. Check out the possibilities on the Monogram Options page.
To learn more about the custom clothes available through Tom James, contact Battaglia by e-mail at d.battaglia@tomjames.com.
PHOTO CREDITS
Top Photo: Courtesy of Artfully Disheveled
Second Photo: Courtesy of Smallprint
Bottom Photo: Courtesy of Tom James