Fashion
Dress for Success on the Move
Dress for Success on the Move

Walk into Dress for Success Cincinnati and you'll see rack after rack of women's suits complemented by displays of other professional accessories. Yes, Dress for Success helps unemployed and underemployed women suit up for job interviews.
But without a job, many deserving women in the Greater Cincinnati area can't afford to make their way down to the Fourth Street headquarters Downtown. "The biggest barrier for women to get to us is the transportation," Dress for Success Founder and President Mary Ivers says. Pretty soon, that won't matter, though.
In September, Impact 100 members voted Dress for Success as a recipient of a $109,000 grant. With that grant, Dress for Success will start a Mobile Career Transformation Center.
This Mobile Center will be a van specially outfitted to service women in the Greater Cincinnati area by bringing the job interview attire and educational
resources to them. "I'm excited for [Dress for Success] to be able to use the van as a way to reach people and get them in that first step in the process, and I know that they do so much more from the educational standpoint with job training and preparedness," Impact 100 President Jenny Berg says.
Projected to hit the road in the second quarter of 2011, the Mobile Center is expected to service an estimated 500 more women in its first year, Ivers says, which is a
significant increase from the 1,200 women Dress for Success already helps annually.
Once the Mobile Center is ready to roll, it will go to "one-stop locations" in each county. These locations will be the places where the Mobile Center sets up shop in each county.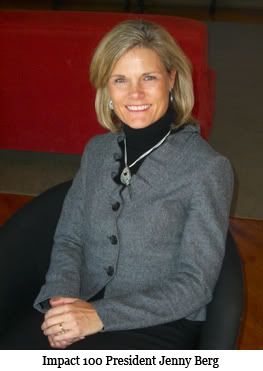 Before heading to a one-stop location, though, Dress for Success will work with the county's social service agencies to make appointments for residents in that county. So when the Mobile Center rolls up, it will act just like the Downtown location, where each client already will have an appointment set up.
This advanced scheduling helps ensure that the Mobile Center has the appropriate sizes on board
when it leaves the Downtown office. "The way we determine what inventory is going to be on the van will be through the referral process," Ivers says. "On our Web site, there is a form that all the agencies use to refer the women here, and they have to specify sizes because even here, at this location [Downtown], we don't always have a size 11 shoe with wide width or a size 0 suit."
For more information about Dress For Success and Impact 100, check out DFSCincy.org and Impact100.org.
PHOTO CREDITS
Top Photo
Photo courtesy of Mary Ivers
Bottom Photo

Photographer: Ashley Sohngen
Model: Jenny Berg

Location: BOOST…for meeting's sake