Fashion
Expanding Fashion's Horizons
Expanding Fashion's Horizons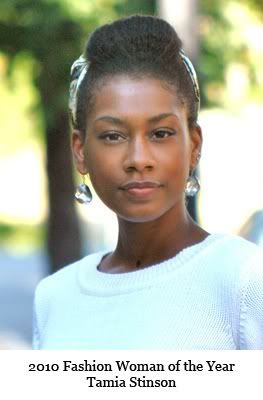 When Tamia Stinson started Style Sample magazine almost two years ago, she just needed an outlet for her fashion passion. Now, she's working on the 11th issue of the magazine.
"I totally did not think I would still be doing it at this point, at least not when I started. It was started on a whim like, 'Let's start a magazine,' so for it to keep going this long is sort of astonishing to me, but I figure that I'll keep it going as long as I'm having fun with it," Stinson says.
And for it to keep going is not by accident. Stinson has something going with Style Sample that is unparalleled by another publication, and it is this unique quality and Stinson's style that landed her the title of Cincy Chic's 2010 Fashion Woman of the Year.
Style Sample magazine is a fashion-focused publication geared specifically to fashion bloggers (though any fashionistas can devour the content just as quickly). And with its online-loving audience, the magazine is available in both online and print-on-demand formats.
As you may know, beyond the magazine, Stinson also writes The Style Sample blog. Here, you can get your fashion fix between the bi-monthly issues of the magazine, as Stinson
shares her style tips, tricks and finds.
This visually in-tune blog gives you a chance to read and see what Stinson's style is all about. For example, Stinson will discuss an outfit and provide photos for you to see exactly what she's writing about. This works especially well when she gives some style how-tos, like how to master the art of layering.
Stinson recently expanded her blog's reach with her addition to Locals on Living on Cincinnati.com. The Style Sample's blog updates are now linked from the Locals on Living page to give Cincinnati.com readers a taste of style and give The Style Sample more readers to please.
In addition to starting on Cincinnati.com, Stinson has expanded her professional horizons with an extra tab on her site. Her Services tab fills you in on how she can fashion more than a wardrobe as she now offers graphic design, branding and social media work.
For more information about the blog, the magazine or Stinson's design work, check out TheStyleSample.com.
PHOTO CREDITS
Photo courtesy of Tamia Stinson