Lifestyles of the Rich and the… Smart Shoppers
You might know her blog as Mommy Snacks, but Andrea Deckard has changed the name and focus of her site to offer more ways to save with Savings Lifestyle.
The name change signifies what she aims to help people achieve: a true lifestyle change geared toward saving. "It's like when you're trying to lose weight," Deckard says. "You're not just on a diet if you're going to be successful. You really try to change your lifestyle."
While Deckard continues to offer coupons and insider info on how you can make the most of your discounts, she's expanding her reach beyond the grocery store. From beauty care products to do-it-yourself projects you can do with the kids, "there's lots of different ways that they can incorporate savings into their lifestyle in general," Deckard says.
Like Mommy Snacks, Savings Lifestyle reaches a national audience with its accessibility online, but Deckard doesn't forget her fellow Tri-Staters. In addition to the main site, Deckard has created localized sites for both the Cincinnati and Dayton markets. She also is looking to expand to other markets in the future as the business grows.
For now, though, while nobody else in the country may know about Jungle Jim's, let alone care if there's a deal going on there, you'll be able to take another adventure to the international market and save some cash while you're at it. Beyond food savings, Savings Lifestyle: Cincinnati continues with Deckard's new approach and offers a full range of savings opportunities in the area.
With the expansion of her focus to include an entire lifestyle centered around saving, Deckard has expanded the (wo)man power behind the operation. Now, four part-time bloggers work with Deckard to provide you with the savings information you need and want. Three of the four women Deckard brought on board are from the area, with one from Northern Kentucky, another from Cincinnati and the third from the Dayton area. Deckard has never met the fourth blogger face to face, but this Georgian served as a guest blogger for Mommy Snacks, which gave her the foot in the door.
For more information on how you can make a change toward a savings lifestyle, check out SavingsLifestyle.com.
Cooking up Your Savings
While Deckard covers a broader scope, $5 Dinner Mom Founder Erin Chase narrows in her focus. As you might know, Chase started blogging after her family needed to cut back on their spending. Chase took it upon herself to cut down on her grocery budget and challenged herself to make a meal every night for their family of four that only cost $5 total. And that's where the blog comes in.
Through her blog, Chase shared her experience with the world. She wrote about what coupons she used to buy which ingredients and even provided detailed information on how to coupon strategically.
Now, after her release of The $5 Dinner Mom Cookbook, Chase just released The $5 Dinner Mom Breakfast and Lunch Cookbook to get you through every meal of the day. After challenging herself to make $5 dinners every night, her competitive side kicked in for breakfast and lunch too, so she started striving for a $10 a day budget for food, including all meals and snacks.
Just like her first book, this newest release provides much more than just a bunch of recipes. Chase shares her tips on how to coupon, how to plan and even how to snack, so that you are fully prepared to make your own $5 meal challenge a success.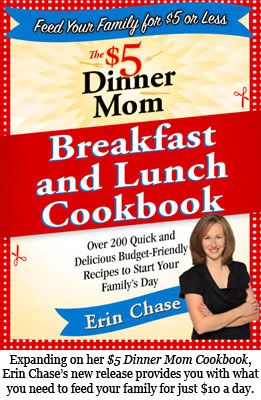 As a mom, Chase understands the eating demands of your family and offers fool-proof strategies on how to use her recipes to substitute for fast food without the preservatives and processed foods but still with the convenience and low price. She gets very detailed about making friends with your freezer, and helps guide you to recipes and foods that freeze well and how to batch cook so that you prep and cook once and have meal after meal ready to go.
Even if you're not striving to make every meal feed four people for $5 or less, Chase definitely can help you with a delicious meal or two. For each recipe, Chase tallies up the cost of each ingredient to let you know the total bill for the meal. While most of the prices are based on her ability to master the coupon world, she offers a "Frugal Fact" for each recipe to help make her couponing strategy notes a little more specific. One Frugal Fact shares, "Sour cream can often be purchased for free or nearly free by combining coupons with $1 sale prices."
Beyond the savings side, Chase also uses her cookbook to help you enjoy your meals more with a greater variety of foods that taste just as good as they are for you. "Everybody I think can meet that need of, 'Get me out of the rut,' " Chase says, and her goal is to get her readers out of that routine same cold cereal and same sandwich every day so that they can be more excited for their meals without having to spend much extra time or money.
For more information about the $5 Dinner Mom Breakfast and Lunch Cookbook and other ways Chase can help you save, check out Chase's Web site at 5DollarDinners.com.

PHOTO CREDITS
Top and Second Photos

Photographer: Neysa Ruhl
Model: Andrea Deckard

Location: BOOST…for meeting's sake
Bottom Photo
Image courtesy of Erin Chase