A wedding comes with details to spare, but two details you want to pay attention to are your ceremony and reception venues. After all, the whole "location, location, location!" doesn't just apply to real estate.
When you and your spouse-to-be are determining where you'll be saying "I do" and celebrating
afterward, you want to take into account the obvious elements of guest count, price, amenities, etc. But you also want to be sure your wedding locale reflects you as a couple, so we're here to help you out a little by offering four personality-matched venues that are sure to wow your guests.
For the Nature Lover
If you want to be surrounded by nature when you commit your love to each other, Krippendorf Lodge can make it happen. Run by the Cincinnati Nature Center, this event venue is like a little cottage retreat reserved just for you and your guests.
"We're located on more than 1,025 acres with forests, fields and streams, and it's just a natural place of beauty," says Kristi Masterson, public relations and membership manager for the Cincinnati Nature Center.
The lodge itself can hold up to 100 guests, but the porch and terrace add the potential for an additional 200. And you don't have to worry about playing weatherwoman the week of
the wedding. "That whole patio can be completely covered by both an awning and side panels," Masterson says.
As you celebrate your love for each other you also can show your love for the environment by supporting the Cincinnati Nature Center's recycling and sustainability efforts. "We try to keep it very sustainable, meaning that they're not allowed to use any plastic wares, they're not allowed to throw balloons up in the air. Everything that they do has to be environmentally sound and tied to our mission at the Nature Center," Masterson says.
For more information about Krippendorf Lodge, visit CincyNature.org/Krippendorf.html.
For the Art Aficionado
Cincinnati has a tremendous art scene, and you can incorporate it into your big day with the Art Design Consultants' Gallery in the Sky. This fifth-floor art gallery offers breathtaking views of Downtown, Mt. Adams and even Newport outside while your guests can be inspired by the art hanging on the inside.
"Everywhere you look you're experiencing something," ADC Owner Litsa Spanos says. "Whether you're looking at the paintings, it's just a visual delight."
This venue works so well for a customized approach, too, because most of the gallery walls can be moved to fit your floor plan. Whether you want to create a wide open space with the art on the outskirts or you want to spotlight the art by weaving the walls into your reception space, Art Design Consultants will work with you to make it happen.
For a cocktail reception, the Gallery in the Sky can hold up to 250 guests, and for a seated affair, it will accommodate up to 180.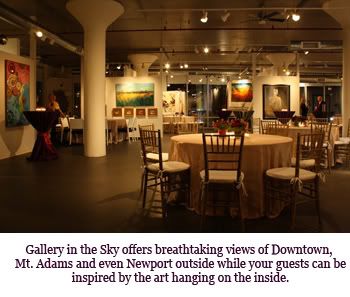 Even with all those people, you won't have to worry about a parking disaster, as the gallery provides free parking right across the street from the building.
For more information about the Gallery in the Sky, head to ADCFineArt.com or check it out for yourself anytime between 9 a.m. and 5 p.m. Monday through Friday at 310 Culvert Street Downtown.
For the Sightseer and/or Out-of-the-Box Thinker
For a truly unique experience and an unbeatable view of the Cincinnati skyline and Newport on the Levee, you actually can rent the privately owned Purple People Bridge for your wedding ceremony and reception.
Your big event can span the Ohio River as you celebrate under the stars and city lights. For a true Cincinnati celebration, you can coordinate your evening reception with a Cincinnati Reds' home game to give your night an extra bang with homerun fireworks.
And this unmatchable venue is sure to keep your guests talking about your wedding long after the celebration ends.
For more information about the Purple People Bridge and its rental, head to PurplePeopleBridge.com.
For the Traveler/Adventurer
Many couples plan a getaway following their wedding day, but a big trend has couples flying out of town to say their I dos. If a beachside ceremony fits your fantasy or an exotic setting suits your dreams, local DestinationWeddings.com travel agent Cindy Berre can help you minimize the stress and maximize the perfection for your destination wedding.
Despite travel costs, most destination weddings actually come in with a significantly lower budget than more traditional weddings.
"Destination Weddings often allow couples to save upwards of $20,000 versus a traditional wedding," Berre says.
But destination weddings aren't just about the couple. They can have an added benefit for guests, too. "Often, when looking at a guest list, many people will have to travel from far away states or countries," Berre says. "A destination wedding allows them to travel somewhere exotic and fabulous, where they can also enjoy a relaxing vacation, as opposed to asking guests to book a flight and hotel in a less exciting hometown."
Also with a destination wedding, the "big day" turns into the "big weekend" or even the "big week." "The entire wedding party will travel to the destination and enjoy a long weekend — or an entire week — and be on vacation while attending the wedding," Berre says.
For more information about destination weddings, contact Berre at (513) 645-1754 or e-mail her at cindy@cindyberretravel.com.

PHOTO CREDITS
Top and Second Photos

Photographer: Neysa Ruhl
Location:Krippendorf Lodge
Third Photo
Photo courtesy of Art Design Consultants
Bottom Photo
Photographer: Neysa Ruhl
Model: Cindy Berre

Location: BOOST…for meeting's sake