Eco-friendly and Fabulous
This June, Cincinnati will have its first ever Greenarama. Just like the well-known Homearama, this upscale residential real estate showcase gives you the chance to tour the work of some of the city's best builders, architects and interior designers.
The Basic Details
Set for June 17 to 19 and June 24 to 26, Greenarama will showcase eight houses located on Strafer Street in the Columbia-Tusculum neighborhood. Each of the eco-friendly homes will be in the process of attaining LEED certification.
The Exhibit House
One of the arguably coolest aspects of the show will be the exhibit house. This unfinished house will give guests the chance to actually see what goes into building a LEED-certified house.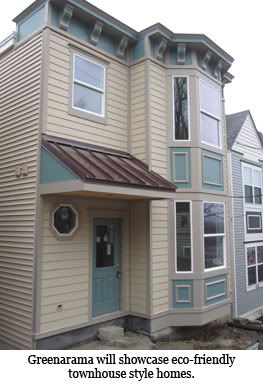 "We're going to use several different types of the higher energy-efficient types of insulation and various products in this house, so you'll literally be able to see physically behind the walls how windows are flashed, how the infiltration of air is dealt with," says Gary Osterfeld, Greenarama founder and owner of Mann Daly Homes by Osterfeld Construction.
Beyond showing just how each house is made to save the homeowners money on their utility bills, the exhibit house will have several vendors ready and willing to further educate Greenarama guests on the uses and benefits of their eco-friendly products.
The Consumer Benefit
Greenarama means much more than just an event that will take place two weekends out of the summer. Instead, the participating houses will have a lasting impact on their buyers, as going green will save them green, especially in the Cincinnati city limits.
The builders contribute to the savings with the energy-efficient products and techniques, but the city also lends a financial helping hand. Each participating house is eligible for the city's 15-year, $500,000 new construction tax abatement. While the normal tax abatement holds for 10 years, LEED-certified homeowners will enjoy a 15-year tax-free period (though they will continue to pay taxes on the land).
"It's my understanding that Cincinnati was the very first in the country to offer something like that," Greener Stock Owner Heather Curless says about the tax abatement.
Also, just as sustainable living helps protect Mother Earth, it has some health benefits for the consumer too. As houses become more and more closed in lower heating and cooling costs, the chemicals (also known as volatile organic compounds or VOCs) in products used in building houses can create poor indoor air quality. "Our indoor air quality is so much worse than our outdoor air quality because of all of the chemicals that we add inside," Curless says.
But the Greenarama houses take a healthier approach with eco-friendly products that are no-VOC or low-VOC.
The After Effect
After a tour through the Greenarama houses, don't be surprised if you want to greenify your own abode. As mentioned, the exhibit house will provide you with extensive information and inspiration on how you can make your home more sustainable, but before, during or after the show, you can head to Greener Stock.
Greener Stock is working with Greenarama builders to help guide their efforts to the greenest solutions, and it can do the same for you. This "environmentally friendly store" provides products, services and resources to make your living space and lifestyle more sustainable.
The Pre-Greenarama Show
While June is still a while away, you can get your green fix with the Art Design Consultants and their Cincinnati Design Star event series. This showcase of local interior decorators provides you with visual inspiration for your own home, as each professional tackles a new challenge. "It gives people a great connection to how they can live with great design and art in their space," ADC Owner Litsa Spanos says.
This year, A. Maris Bernard Design takes on the sustainability challenge with "The New Environmentally Eclectic Office." Set for an official unveiling event from 6 to 9 p.m. April 14, this eco-friendly design is sure to get your mind thinking about the green things in life.
After the unveiling, the room will be available to view from 9 a.m. to 5 p.m. Monday through Friday at ADC's "Gallery in the Sky" located on the fifth floor at 310 Culvert Street. For more information about this design challenge, Cincinnati Design Star or Art Design Consultants, check out ADCFineArt.com.
To learn more about Greenarama, head to Greenarama.org.
PHOTO CREDITS
Top Photo

Photographer: Neysa Ruhl
Model: Litsa Spanos and Heather Curless

Location: M/I Homes Estates at Shayler Ridge Model Home
Second and Bottom Photos
Photographer: Linda Palacios
Location: Greenarama site on Strafer Street