Tweety Bird "tawt he taw a puddy tat." And Garfield loves lasagna — but not Odie so much. How do you know? Cartoons and comics, two regular parts of a kid's week. But the laughs aren't just for kids anymore.
Twelve-Way with Cheese just came out this summer with a "mature readers" tag on the front, and Cincy Chic fills you in on the background behind the book.
Comics Illustrated
Cincinnati has a great group of illustrators right here in town.
"When I lived here before, I didn't know that these people existed. That's part of why I went to New York because I thought you kind of had to seek out a whole new city where all these creative people were, but there are a bunch of people tucked away here," illustrator Darcy Vorhees says.
And those creative people meet every Wednesday for lunch. They call themselves the Cincinnati Illustrators.
"The restaurant rotates from different parts of the city every Wednesday so that everybody has a chance to have the lunch near where they live at times," illustrator Daryll Collins says. But no matter where they meet to eat, a bunch of the city's finest illustrators get together to connect over a meal.
Spotlighting the Individual
Members of the Cincinnati Illustrators group have their own style and story. Vorhees and Collins, for example, both trace their drawing roots back to Disney films that inspired them to want to create cartoons.
Vorhees took her Disney inspiration to Pratt Institute in New York to study animation and film. She ended up using her talent to give back to her source of professional direction when she worked on "The Lizzie McGuire Movie."
Also while in the Big Apple, Vorhees worked with "Teenage Mutant Ninja Turtles," but now she's back in the Queen City and starting her own company with Flaming Medusa Studios. She's one of the finalists for Bad Girl Ventures and aims to make Flaming Medusa "the animation place to go to in Ohio," she says.
Collins, who hails from Northeast Ohio, turned his Disney inspiration into a drawing frenzy. From the time he was little, Collins would draw comic strips of his own. He took several art classes in high school, but none of his teachers really had information about cartooning.
It wasn't until after getting a bachelor's degree at Youngstown State University and moving to Columbus that he really developed his talent. Collins started taking night classes at the Columbus College of Art and Design.
"When I look at my work from graduating from Youngstown State, just taking those night classes at CCAT, what a world of difference," Collins says. "My talents and my skills just skyrocketed."
After hearing his comic calling, illustrator Tim Fuller made his way up to New York City for his first comic convention in 1972. "I rode a bus for 14 hours when I was in high school to get to this and met a bunch of professionals," Fuller says. "I had my portfolio with me and had it reviewed by DC Comics."
At that particular convention, Fuller ran into an underground comic artist who, after reviewing his work, gave him some words of wisdom: "'Forget about trying to be what somebody else thinks you should be and do your own thing,' " Fuller says. "And that really stuck with me."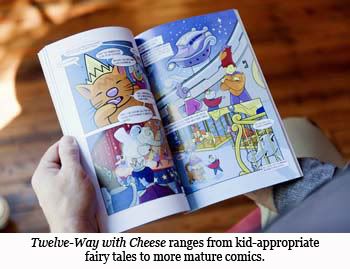 Forming a 12-Way
At a more recent convention in Columbus, Collins and Fuller recognized a trend: comic book anthologies centered around specific cities. Cleveland, Detroit, Pittsburgh and Chicago all had their own anthologies.
"So on the drive home I said, 'There's no reason why we couldn't put together a Cincinnati book,' " Fuller says. And the Cincinnati Illustrators set out to do just that.
Twelve illustrators jumped on board, and the group discussed everything from the book format to the title in their weekly Wednesday meetings. They decided they wanted to have Cincinnati tied into the book while still offering content that Queen City outsiders could still appreciate. So they came up with the name Twelve-Way with Cheese in reference to the famous Cincinnati chili, as each illustrator was a unique ingredient in the finished product.
Another Cincy-inspired element comes in the homage to EC Comics' 1950s style of having a mascot for the books to introduce the different stories. Twelve-Way with Cheese features Zombie Marge as its mascot character.
"She's just this peculiar woman that has a couple of the personality traits of a former baseball owner here in town but is not her," Collins says. "We just thought certain aspects of her personality we incorporated into this character, so she's kind of the spokescharacter for the book."
The group also decided that they wanted to not set restrictions on the content, so the resulting anthology ranges from kid-appropriate fairy tales to more mature comics. Even with the kid-friendly comics, the illustrators put a "Mature Readers" tag on the front cover and market the book only to adult audiences.
Collins works almost exclusively in the kids' market on a full-time basis, but he had stockpiled various ideas for cartoons and gags that were more appropriate for an adult audience. "With this Twelve Way project, it was just be you, have some fun do your own thing, so it was really freeing and a lot of fun," Collins says.
This freedom allowed creativity to flow with all of the illustrators, and the fun comes out in the book. Fuller, who edited and laid out all of the content for the book, even had some fun sprinkling some fake ads in the book that parody old comic book ads. So the 106-page work provides cover-to-cover humor from local talent.
To check out Twelve-Way with Cheese head to local comic book stores or go to Comixpress.com. Learn more about the book at ZombieMarge.blogspot.com.
PHOTO CREDITS
Photographer: Neysa Ruhl
Model: Daryll Collins
Location: Cincy Chic Offices