The imagination knows no boundaries. It is in the "what if" becoming the "what is" that propels our world into the future, even when the creative process is rooted in tradition.
And that's exactly the case of potter Rick Paldino, knitter Jeanine Mullen Steele and pastry chef Summer Gennetti. So, Cincy Chic turned to each of these artists to go behind their work and into the imaginative minds responsible for the creations. Sit back and enjoy the ride.
The Magic of a Potter
Harry Potter may be a fictional character, but Paldino is very real. No, he does not practice witchcraft or play Quidditch, but by just looking at his work, you know that Paldino has a magical touch.
And the magic all started when Paldino was in high school and took classes at the Dayton Art Institute during the summer to supplement his art education. One of those classes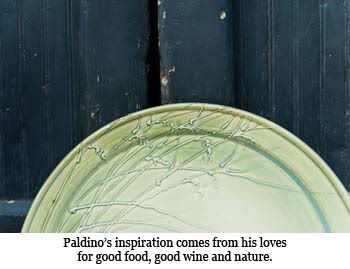 focused on clay. "It rung a bell for me," Paldino says.
That bell rang because pottery fits his personality in two ways. "One is being good with my hands and being mechanically inclined, and the other part is having an artistic bend, so when you look at pottery, it's a combination of working with my hands and being creative," he says.
So, with hands as his wand and his imagination as his spell book, Paldino uses clay to create both on and off the potter's wheel. His inspiration comes from his loves for good food, good wine and nature.
"I like to make my own liqueurs out of fennel and walnut liqueurs and Limoncello, so I make decanters, and that's where one interesting passion pulls another into it and they meld together," he says. His love for wine also led him to City Cellars, where you can find a sangria pitcher and some of his spirit decanters for sale.
Paldino mixes up his work with different styles, colors, you name it, especially when a custom order comes through. But his nature-based inspiration can come through in the color of his work. "Take any spring/summer time and take a walk in the woods, and there's green everywhere," he says. "And it's just a color that I'm drawn to."
For more information about Paldino, his work and his upcoming shows, check out ClassicPot.com.
Manipulating Metal
Steele was around 7 years old when she taught herself to knit. "I went up to the attic and I found an old knitting pamphlet and blue yarn, and I still remember the colored magenta needles," she says.
Steele followed her grandmother's lead who had taught herself to crochet. With limited literary skills, Steele's grandmother was forced to recreate works by just looking at them. "She could read and write, understand, but it was hard for her to read the directions," Steele says.
Now, decades later, Steele follows her grandmother again in her own ability to recreate knitting techniques by looking at a preexisting garment. And that skill came in handy when Steele decided to take her knitting to the next level.
After recognizing the dying art of knitting, Steele set out to preserve the tradition in a modern way. She had a vintage Chanel piece with the skirt crocheted with a chain on the bottom, and a trip to Scotland allowed her to see a woman who knitted sterling silver bracelets. These two inspirations led her to knit with metal.
Now, Steele has knitted three dresses made of metal wire, including one of stainless steel, another of copper and a third of a gold-toned wire. "If I just had knitted the dresses out of yarn, it would have been exciting, but what I wanted to do is to preserve, preserve the craft and also the art of knitting or crocheting in a modern way," Steele says.
While Steele hopes to have a full runway show of metal knits, right now you only can see her works at various exhibitions. Her looks just made an appearance Sept. 3 at the Weston Art Gallery as they stood with several pieces from the collection of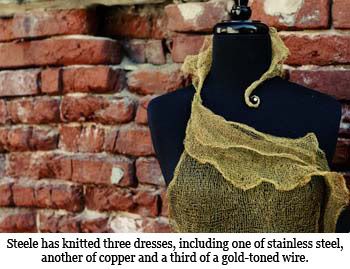 Cincinnati arts patron Patricia Corbett.
One Sweet Job
After graduating high school, Genetti wasn't so sure she knew where her future would take her, but she knew one thing: "I never got sick of cooking," she says. So after a couple jobs here and there, Genetti found a defining position at Jay's Fresh Seafood in Hyde Park.
After her first week, the pastry chef quit, and Genetti was more or less thrown into the position (though willing). "It's been a long, hard road of trial and error because I never did end up making it to pastry school," she says.
She did make it, however, to The Palace, the four-star restaurant at the Cincinnatian Hotel where she now serves as the pastry chef.
So, without any formal training, Genetti relies heavily on her self-taught ways through cooking shows, recipes and cook books. "I was a painfully dorky early-20 year-old," she says. "Like when most people are in their early 20s, they're out partying. I stayed at home and voraciously read cookbooks and watched cooking shows and every obscure pastry text I could get my hands on. My cookbook collection is absurd."
Beyond traditional cooking inspirations, though, Genetti jokes that she owes her career to Dr. Seuss. "My approach to pastry is with a great sense of humor, and that's kind of why I'm drawn to pastry is because we're afforded a lot more latitude for whimsy than a savory kitchen," she says.
Genetti's true genius is in her creative combinations and ideas. And you can admire her art in a very delicious way. Every night of the week The Palace offers a three-course prix fixe dinner for $44 per person. "That includes appetizer, entree and dessert for each person. They also get a little amuse-bouche to start with and petit fours," Genetti says. "So, I think you'd be hard pressed to go to any commercial steakhouse in the country and get out for $44 a person, and I think that's huge."
To taste Genetti's creativity, make a reservation at PalaceCincinnati.com or (513) 381-3000.

PHOTO CREDITS
Top Five Photos
Photographer: Neysa Ruhl
Model: Jeanine Mullen Steele, Rick Paldino, Paldino Pottery, Steele and Steele's metallic knit
Location: Cincy Chic Offices
Bottom Photo
Photo courtesy of The Palace