Dave Willacker fell in love with juggling. Most of us have some expertise in juggling all of the responsibilities in our lives, but we haven't exactly fallen in love with it. But Willacker's love goes back to the way we used to think of juggling — with hacky sacks, bowling pins, even flaming torches.
"It's something wonderful about this city, how much we embrace art, and I was really flattered when someone first noticed my juggling because it was just a hobby," Willacker says. "I loved it and thought it was really cool and thought it was beautiful and thought it was neat, but that somebody wanted to pay me to do it was a whole different level."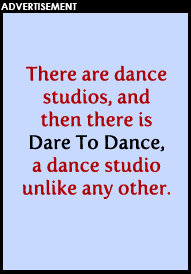 Going to that next level of becoming a professional juggler was just the start of something big. In fact, it was the start of something Big Top — The Amazing Portable Circus to be exact.
Starting a Circus
Juggling was the first show to launch but others quickly followed. People began to ask Willacker if he could do more and more stunts. Could he walk on stilts? After a scary trial and error process back at home, he mastered the art and began offering his stilt-walking services to customers. When they asked him if he could eat fire, he went back home and practiced until he could answer, "Yes."
The acts are just the end result, though, and Willacker needed a space to practice if he were going to turn that juggling hobby into a company. Essex Studios Owner Trent Heimann helped make that happen. "Essex Studios is an artist community. And we really needed a space where we could practice, and Trent reached out to us and said, 'Hey, why don't you come practice here,' " Willacker says.
Adding to the Show
What once was just one man juggling for fun now has turned into The Amazing Portable Circus that offers more than 100 different types of entertainment ranging from magicians and fire eaters to casino nights and murder mysteries.
"We have more stilt walkers than any company from here to New York City or Las Vegas — Cincinnati, Ohio," Willacker says. "And we're doing things in Cincinnati, Ohio, that you can't do in Columbus or Louisville or Pittsburgh or Indianapolis, and I know because we're supplying entertainers to those places."
Making it Fun
The Amazing Portable Circus uniform says "circus" without saying "scary." Have a clown phobia? There are no clowns to be found at this circus. Instead, the uniforms were designed to be much more approachable with red-and-white-striped pants, a red T-shirt, white suspenders and a red ball cap that says "Circus."
"They won't paint their face, and they won't wear a wig, but they'll talk very nicely with your children and make balloon animals for them," Willacker says. "And people say, 'That's what I want.' "
From Entertainment to Education
Beyond the shock and awe, The Amazing Portable Circus just started a program to help kids with their homework. Serving as a latch-key alternative, this program gives kids the chance to learn math, science and even some circus skills.
Willacker himself taught high school for 10 years before making his way into the entertainment business, and many of his performers are education majors. "I have all these people that are education majors who are good with kids and have this great gift and want to work with them — awesome," Willacker says.
At the collegiate level, Willacker is working with the College of Mount St. Joseph to bring a circus program to the curriculum. "It would make it one of three in the nation," Willacker says.
Looking Ahead
The folks at The Amazing Portable Circus constantly add new tricks up their sleeves. "I'm not done. I have things that we're working on now for the future that I can't wait to unveil," Willacker says.
While most of the future plans are top secret, Willacker shared his plans about one major coming attraction. "We are looking for a permanent space that would serve both as a flying trapeze venue as well where we could teach aerial dance and circus skills," he says.
More than Just a Job
Under that red and white uniform and behind the ever-growing business, Willacker holds a true passion for what he does. "Since the first juggling gig I did, it's been 12 years, and we continue to grow," Willacker says. "We're going to be here for a long time, and I'm pretty happy about that."
Another long-lasting aspect of one of his acts took him from being the ringmaster to being the ring giver. Yes, Willacker and his wife, Joanne, were married on top of a trapeze. So after saying their vows and saying "I do," the couple sealed the deal with a celebration swing on a trapeze.
Making it Happen
To have The Amazing Portable Circus make a memorable impact on your next special occasion, visit AmazingPortableCircus.com, call (513) 921-5454 or e-mail info@amazingportablecircus.com. Because the company offers such an extensive list of entertainment options, Willacker can work with you to figure out what might work best for you.
And he won't try to take you for all you've got. "I only sell them what they need, and I listen to what their needs are," Willacker says. So let him know your needs, figure out your fun and enjoy the party!

PHOTO CREDITS
Top Photo
Photographer: Neysa Ruhl
Model: Joanne and Dave Willacker
Location: Cincy Chic Offices

Second Photo
Photographer: Neysa Ruhl
Model: Dave Willacker
Location: Cincy Chic Offices

Bottom Photo
Photos courtesy of Dave Willacker