Studies have shown that being cold can help you burn calories as you shiver away energy, but don't deprive yourself of warmth this winter. A constant chill just isn't worth the few extra calories.
So get out of the cold and cozy up to these three local companies that are bound to keep you warm this winter. From chic insulators to snuggleable bedding, they've got you covered.
Pocket Huggie
You might not get it at first from the name, but the Pocket Huggie serves as a beverage insulator that doubles as a hot beverage sleeve, so you can keep your coffee, tea and hot chocolate warm without burning your hand on the cup.
The reusable product is made of eco-friendly corrugated material, free of petroleum products, and the green impact extends to its functionality. "What's great about it is how many times you can use it. … If you use 100 of those sleeves, it's a lot more material than one Pocket Huggie," says Pilar Mahl, who designed the product with her husband. One customer has used the same Pocket Huggie almost every day for two years, and it's still going strong.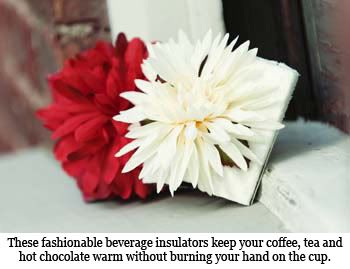 To make the product easy to use, the Pocket Huggie collapses after it finishes its job "hugging" your cup, so it's easily portable for your next cup o' joe.
Beyond the functionality of the product is the chic factor. With designs ranging from faux fur and flowers to holiday and Cincinnati sports teams themes, deciding on your individual Pocket Huggie might take some time. "This is one of those products that helps in giving you a little comfort but then it also shows a little fashion flair," Mahl says.
The product also keeps cold beverages cold, and it comes in bottle, cup and can sizes to match your beverage needs. To get your hands on a Pocket Huggie, check out PocketHuggie.com.
DOWNLITE
Nordstrom; Macy's; Dillard's; Bed, Bath and Beyond; Bloomingdales — the list goes on for where you can find DOWNLITE products. To be sold in these respectable stores, you know it has to be top-notch.
Well, this down and feather bedding company holds its headquarters nowhere else but Cincinnati. And as a Cincinnati resident, you are in the prime location to snuggle up with their comforters, blankets, throws and pillows to keep you warm this winter.
While the Cincinnati manufacturer ships internationally to major stores, hotels; and bed and breakfasts, you can go straight to the source with the DOWNLITE Company Store in Kenwood. Located at 7865 Kenwood Road (across from Kenwood Towne Centre), this store lets you browse all of the company's products in a comfortable show room. Store hours are 10 a.m. to 6 p.m. Monday to Saturday and noon to 5 p.m. Sunday.
If you're looking for a steal, you're in luck. DOWNLITE also has an outlet store located at 7818 Palace Drive. Enjoying a little luxury as you keep comfortable this winter doesn't have to be expensive. Store hours are 11 a.m. to 5 p.m. Monday to Saturday and noon to 5 p.m. Sunday.
For more information about DOWNLITE, head to DOWNLITE.com. To learn more about the company store in Kenwood, call (513) 489-DOWN (3696), and to connect with the outlet store, call (513) 891-DEAL (3325).
Lorilooms
Bundling up doesn't have to look like you're going into hibernation, especially when you check out
LoriLooms. This local company exclusively carries adorable knit products designed by a creative stay-at-home mom and her loom.
Her fashion-forward scarves will keep you in style as they keep your neck warm. And the brown buttons on many of the scarves give them that unique touch to make them stand out from off-the-rack accessories.
In the frigid winter, you can't forget about your hands. With texting and driving and just doing the day-to-day tasks that you need to do, the LoriLooms fingerless gloves keep your fingers free while protecting your hands from harsh temperatures. These fashion finds follow the winter wear trend that hit big last winter and continue this season. So your on-trend hands won't turn to blocks of ice as you brave the Cincinnati weather.
You even can keep your little one warm with LoriLooms products made for kids. Dress up your darling in a Santa hat with red and white yarn or forget tying your kids' scarves by getting them a comfy slipover cowl from the LoriLooms collection.
For more information about LoriLooms or to start your shopping spree toward warmth, check out LoriLooms.Etsy.com.
No matter which products you buy, have a wonderfully warm winter!

PHOTO CREDITS

Top and Second Photos

Photographer: Neysa Ruhl
Model: Pilar Mahl
Location: Cincy Chic office
Bottom Photo
Photo courtesy of LoriLooms