The American Red Cross, Habitat for Humanity and Cincinnati Museum Center all propel this city forward with their helping hands. Whether helping families overcome a disaster, find a house to call a home or grow closer together through education, these organizations all work wonders for Cincinnati residents. And the people who make it all possible are the volunteers.
Thousands of local men and women donate their time, talent and energy to allow just these three local organizations to continue to offer their social benefits to the city of Cincinnati. It's time we recognize those thousands of individuals and the difference they make hour after hour, day after day, year after year.
The Cincinnati Area Chapter of the American Red Cross
Across the nation and around the globe, 96 percent of the total work force for the American Red Cross is volunteers. With paid employees out matched around 20 to one by volunteers, the Cincinnati Red Cross definitely follows that philanthropic trend.
"There's no way that we as staff members could go assist all the individuals affected by the disasters here in the community," Disaster Volunteer Coordinator Jason Oyer says. "That is being done by all the disaster action team volunteers. So every time you hear that a person was assisted by the Red Cross, those are volunteers doing that."
Beyond braving the rain, snow, sleet and even summer heat to respond to local disasters, volunteers also help in every other aspect of the Cincinnati Red Cross. From helping spread the word at community outreach fairs to answering phones at the chapter's brand-new headquarters to cleaning mannequins after a CPR training class, volunteers do it all.
"We could not function without our volunteers," Volunteer Coordinator Althea Barnett says. "Our volunteers are the backbone of this organization, and I mean that in every facet of what we do. Our volunteers lead the efforts."
All of that donated time and energy makes it possible for the Cincinnati Red Cross to service 26 counties across Ohio, Kentucky and Indiana 24 hours a day, 365 days a year. In addition to the disaster prevention, preparedness and relief services of the Cincinnati Red Cross, the organization also provides emergency communication for military personnel and their families. So the impact of local volunteers literally spreads across the globe.
For more information about volunteering with the Cincinnati Red Cross, head to CincinnatiRedCross.org, and to become a volunteer, fill out the online application.
Cincinnati Museum Center
Composed of the Cincinnati History Museum, Duke Energy Children's Museum, the Museum of Natural History & Science, the Robert D. Lindner Family OMNIMAX Theater, and the Cincinnati Historical Society Library, the Cincinnati Museum Center serves more than 1.4 million visitors annually. And the experience for those almost one and a half million people just wouldn't be the same if it weren't for volunteers.
"I consider our volunteers to be the backbone of our wonderful institution," Volunteer Services Directory Angie Smorey says. "The fact that they are willing to share one of their greatest commodities — their gift of time — is priceless, and we are extremely grateful for all they do."
Within the last year, Museum Center volunteers have racked up more than 136,000 hours of service, which the Museum Center has estimated is equal to 65 full-time positions with a more than $2 million value.
Coming from across the Tri-State, volunteers work in every single part of the institution from human resources and finance to exhibit construction and public education. If you're one of those 1.4 million visitors, you could find those time givers leading demonstrations, adding to the museum experience dressed in period clothing or working in the machine shop.
To learn more about the volunteer opportunities at the Museum Center, check out CincyMuseum.org.
Cincinnati Habitat for Humanity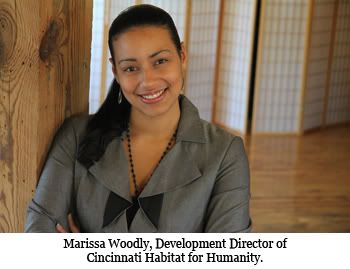 More than 220 families have a place to call home in the Tri-State because of the more than 3,000 people who volunteer for Cincinnati Habitat for Humanity on an annual basis. Contributing everything from a couple hours of painting to full-out construction experience and leadership, volunteers have worked alongside the deserving individuals set to receive the homes, who are required to contribute 500 hours of "sweat equity" as a down payment on their home.
"Habitat partner families pay a mortgage just like you or I," Development Director Marissa Woodly says. "Now, the big difference is that because of our volunteers, because we are not paying for the labor, we are able to keep the cost of construction low and charge them a zero percent interest mortgage."
That zero percent interest paired with a down payment of 500 hours of "sweat equity" makes all the difference between homeless and home owner. And it is the volunteers who make that happen.
"Volunteers truly are the heart beat of our organization," Woodly says. "Without volunteers, there really is no way we would be able to accomplish what we do here in Cincinnati, what we do around the country and, honestly, what we do around the world globally for Habitat for Humanity."
Beyond construction services, volunteers also help in the recently opened and expanded ReStore. This home improvement store offers building supplies and housing needs for 40 to 70 percent off retail price.
Volunteers also donate their time in the day-to-day administrative work of the organization. "There is not a day where our staff works without volunteer support," Woodly says.
For more information on how you can get involved with Cincinnati Habitat, check out CincinnatiHabitat.org.
So whether you say volunteers are the backbone or heart beat of these organizations, one thing stays the same: Volunteers play a vital role in making this city a better place. So from Cincy Chic: Thank you to all who give their time, talent and treasure to make Cincinnati a great place to call home.
PHOTO CREDITS
Top Photo
Photo courtesy of the Cincinnati Area Chapter of the American Red Cross
Bottom Photo
Photgrapher: Ashley Sohngen
Model: Marissa Woodly
Location: BOOST…for meeting's sake