Staying on the Cutting Edge
If you feel a little behind the times, this story is just what you need to bring you closer to the cutting edge. So instead of just wondering how they do it, we flat out asked five local industry leaders how they stay ahead of the trends.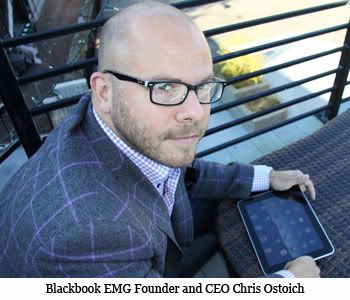 Social: Blackbook EMG Founder and CEO Chris Ostoich
Staying on top of the social sphere can seem impossible if you're facing the world alone, and that's why Ostoich relies on his network. "All of us are smarter than one of us," he says.
So instead of trying to tackle everything on his own, Ostoich makes and keeps connections through what he calse the "usual suspects," including Facebook, LinkedIn and Twitter, all easily accessible via his iPad. But Ostoich and Blackbook EMG have another tool up their sleeve called the Poken.
Serving as a digital business card/mobile Facebook profile, Poken allows you to easily swap contact information on the go. Once you get the Poken (available through Blackbook EMG), you plug the USB port into your computer, fill out your profile information and then keep the little guy handy for Poken encounters.
When you meet somebody else who has a Poken, the two of you just need to put your individual devices next to each other, and they will automatically switch contact information. As you continue to meet, the Poken can keep track of your personal interaction timeline and all of the contact information you swap. And you can see it all by just plugging the Poken into your computer again.
Beauty: Vivian Moore, managing vice president of Mitchell's Salon and Day Spa
To stay on top of beauty trends, Moore keeps her eyes on fashion. "Hair always follows fashion," she says. Because beauty styling complements the fashion it accompanies, fashion designers always pay close attention to the hair and makeup details to make sure that the entire look works from head to toe.
Moore keeps her eyes on fashion by working as a stylist for various runway shows. This past summer Moore was part of the styling team for the Georgio Armani Prive Couture Show in Paris Fashion Week. (Learn more about her experience here.) At the Armani and other shows, Moore recognized cooler tones in both the fabrics and the hair color.
"A really strong coloring effect that you're going to see for spring/summer of 2011 is going to be the cooler blondes, and one of the big reasons for that is that the color palette that fashion designers are using is cooler," Moore says. So don't be expecting shiny golden blondes to be popular in next season.
While you can't fly to Paris to check out the Armani show or to New York to get insider info from Cynthia Rowley's Fashion Week runway like Moore does, you can keep up-to-date with your computer and your favorite fashion designer's Web site. "Even if you can't wear their fashions, their overall design aesthetic is something that you can definitely follow," Moore says.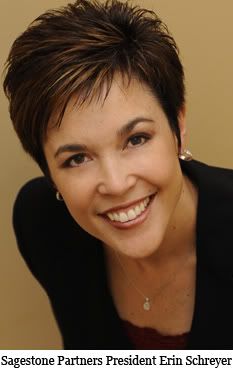 Career: Sagestone Partners President Erin Schreyer
For keeping on top of her game, Schreyer has a couple key rules: 1) Love what you do. 2) Be open and willing to immerse yourself in it. 3) And then actually immerse yourself in it.
Schreyer loves what she does in career coaching, consulting and training. And she definitely is open to immersing herself in the culture. Voracious reader doesn't begin to describe Schreyer, as her annual Amazon bill is never less than $3,000 she says.
While she might not read every single word of every single book, Schreyer makes sure to read at least one book a week, and each book centers around one of three categories: leadership, employee engagement or effective communication.
"That could be effective communication via social media. It could be effective communication via public speech. It could be effective communication via writing or blogging," Schreyer says. "So those are three big buckets: leadership, employee engagement and effective communication, but most of the work that I do falls into those three categories, so I make sure that I can get lots of depth and breadth within each of those three categories."
Before immersing yourself in anything, though, Schreyer says first thing's first. "You have to know what you want.… If you don't know where you're headed, you won't know how to get there," she says. And whether you're figuring out your life path or working toward a specific goal, remember that you can't be everything to everybody.
Fashion: Cincinnati Fashion Week Founder Nathan Hurst
When it comes to fashion, following the trends ends up making you just one in the crowd. To be truly on the cutting edge, you have to be the unique fashionista who shows a side of fashion never before seen. And that's exactly what Hurst does.
"The way I stay up to date is just by avoiding what everyone else is doing and making my own statement," Hurst says.
To make that statement, Hurst looks to everything from the leaves in the trees to the change sprawled out on the counter for inspiration. A documentary called "The September Issue" reinforced how he finds inspiration, as one source mentioned that she never closes her eyes because "inspiration can come from the most random place," Hurst says.
To follow Hurst's lead in taking your own path, Hurst recommends to be aware of the trends but to use them as a source of inspiration to express your own style. A great place to help you make that happen is Chicken Lays an Egg, one of Hurst's personal favorite stores. This vintage shop in Northside offers possibilities waiting to happen. "Taking something and making something else out of it is fashion," Hurst says.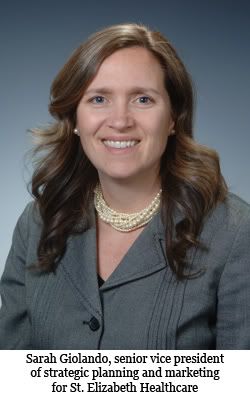 Health: Sarah Giolando, senior vice president of strategic planning and marketing for St. Elizabeth Healthcare
Giolando's job requires her to stay on the cutting edge of the health industry so that she can keep St. Elizabeth right up with her. And she credits one of the perks of the industry as one way she makes it happen. With healthcare being delivered locally, hospitals across the country are seen more for collaboration than as competition, she says.
In using national healthcare industry connections in addition to her own research and experience, Giolando has a much better positioning to be on the leading edge. So St. Elizabeth is able to do the same.
St. Elizabeth was one of the first healthcare groups to require all-digital mammograms and it's the only adult healthcare system in the area to offer a 320-slice CT scanner, which offers a full image of a beating heart in less than two seconds.
Last month, St. Elizabeth also announced that it is raising funds for its third da Vinci surgical robot, which is used mainly for gynecological procedures. "It's an excellent innovation in surgery because it reduces the amount of bloodloss that happens during surgery and allows for a much more precise incision and surgery," Giolando says.
To help you stay on the cutting edge of the industry, Giolando recommends taking control of your healthcare. Resources like HealthGrades.com and the government's healthcare compare site Healthcare.gov/Compare can help you be an informed consumer. And St. Elizabeth soon will offer you even more control over your healthcare via its electronic records system, MyEpic, currently being piloted by several St. Elizabeth Physician offices.
PHOTO CREDITS
Top and Second Photos
Photographer: Ashley Sohngen
Model: Chris Ostoich

Location: BOOST…for meeting's sake
Third Photo
Photo courtesy of Erin Schreyer
Fourth Photo
Photo courtesy of Sarah Giolando