Cincy Chic gives you something you can't find anywhere else: information about local fashion, health, beauty, social and career opportunities all geared toward local women. You can find the newest place to spend hours shopping or the soon-to-be spot to fit in your yoga.
Now, it's the men's turn.
"Everything that professional women have learned about themselves, style, trends, anything like that, just know that now there's a publication for the man in your life too," Cincinnati Profile Editor Pete Scalia says.
Making a Change
While it's no news that Profile has been around, the publication recently has taken a turn toward the Web and away from print. Currently, you can skim through the publication's second official online-only issue.
With the change to online exclusivity, the Profile team decided to go back to its roots. "Originally, when Tom Schaefer [publisher of Profile] started Cincinnati Gentleman, it was a more of a lifestyle publication," Scalia says. After Reach Publishing bought the publication, they revamped it to be less focused on men and appeal more to a business-to-business audience, Scalia says. Now, Profile goes back to its all-male, lifestyle focus.
Getting into the Male Mind
Before jumping in feet first, Scalia and the rest of the Profile team did some research to find out what exactly Cincinnati's men wanted to read about. After a readers' survey, extensive research of other male-focused publications and dialogue with the magazine's target audience, Profile determined 10 editorial departments.
These departments include the male must-haves like sports, auto and women/relationships. But they also include sections that men might not admit so freely that they want to know about, including health and style.
"I might not necessarily have an article for every one of those topics every month, but they're sort of interchangeable enough to keep the reader interested," Scalia says.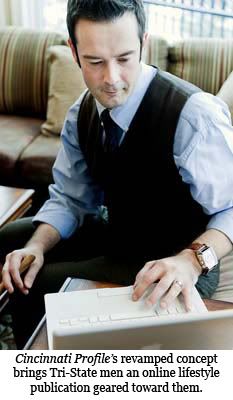 Start 'Er Up
The new (and we think improved) Profile launched its first online-only issue Nov. 22 with a Holiday Gift Giving Guide, and a week ago, they published a 2011 Forecast issue.
The magazine maintains its monthly publishing schedule, and each issue includes eight to 10 stories. Mixed in with changing editorial are some staple columns, including an Auto column by Mike Karwath, owner of Red 9 Fabrication & Speed, and a music column by Monika Royal, a founding partner of The All Night Party. With her music connections, Royal even offers readers free downloads from the local bands she writes about.
Just like Cincy Chic, Profile offers a free subscription. All you have to do is enter your e-mail address in the subscription section of the site, and Profile news and updates will start arriving in your inbox.
The publication is truly Cincy Chic's counterpart with a target audience of local professional men between 25 and late 50s, but you still can enjoy the publication and learn something new about the city. "When it comes to differences between the two publications, there actually will be noticeable crossovers on a lot of things, whether its events or articles or mainly perspective," Scalia says. "Just keep in mind that we will have things not just for men."
Keeping the Momentum Going
Profile's future holds some great opportunities for Cincinnatians. The Jan. 10 issue will focus on a New Year, New You theme, including ways to reinvent yourself.
"Creating awareness is another thing I'd like to do with Profile," Scalia says. "There are all these things that universally people deal with, but people locally have stories to tell, and I would love to be able to help tell those stories."
Like Cincy Chic, Profile also has an events side to the publication. Currently, you can check out the events calendar on the Web site, but you can expect more events to pop up.
"It would be nice to be a part of already existing events and then come up with some new events maybe that we haven't seen in town," Scalia says. So you might see Profile everywhere from Cincinnati Fashion Week to a Scotch and cigar tasting.
Beyond just having a good time, Profile events will strive to support a good cause. "We want to be present in the community, find ways to give back to different philanthropies in the Cincinnati area," Scalia says.
To check out Profile and sign up for your free subscription, head to CincinnatiProfile.com. And be sure to share the news with the men in your life!

PHOTO CREDITS
Photographer: Neysa Ruhl
Model: Pete Scalia
Location: Fischer Homes