Financial
Orange on Green: Spinal Surgery Survivor Angie Strader
Orange on Green: Spinal Surgery Survivor Angie Strader

I first learned of Angie Strader's spine story at Cincinnati Children's Hospital Family Advisory Council where we both volunteer. I was fascinated by the little that I heard and, as a result, asked Strader if she would mind sharing her story as a survivor for this column.
I prepared for our meeting with a list of questions, expecting to share how her spinal surgery at the age of 16 caused financial hardship and stress for her family and highlight the importance of understanding your medical insurance.
Strader explained the common financial "ripple" effects caused when a child has a significant health issue, but the rest of Strader's story signifies the true survivor tale of this 38-year-old mother of two.
After Dr. Alvin Crawford of the Crawford Spine Center at Children's corrected Strader's scoliosis, Strader had a new lease on life. She set out for college, and a single event drastically shifted her future. "I got pregnant in college," she says.
Strader made the decision to have her first child, Grace. "I am a single mother thinking my life is over and trying to find a job, manage raising a child, what do I do?" she says.
When Grace was two, Strader found a job working as an EKG technician, at The Christ Hospital. "I am there two days and I run into Dr. Crawford. He takes me down the hall to show me a patient who is being prepped for spinal surgery, and my career pursuit was crystallized in that very moment," Strader says. "I knew then I wanted to be a nurse."
She applied to the Christ Nursing Program and was accepted. Over the next three years, Strader worked full time, went to school full time, and (with the help of her parents) raised her daughter. "I would sleep on a cot at Christ two to three hours before my shift," Strader says. As Strader shared these details, I was captivated by the sequence of events and her ability to maintain such a ludicrous schedule.
It was during this time she met Bryan. "I had switched to ER during school and was working the 3 p.m. to 3 a.m. shift. I have no time for anything else and this resident asks me to the hospital holiday dance. I accept, we have a nice time, but he soon finds out I am a single mother and I don't hear from him again," Strader says. At the time, Strader didn't think much of it. "I had too much going on to worry about a guy," she says.
They were married 12 months later. "I still give him a rough time for being scared off by a single mom," she jokes. "He is the love of my life. He adopted Grace as his own, and we have a second child, Clay."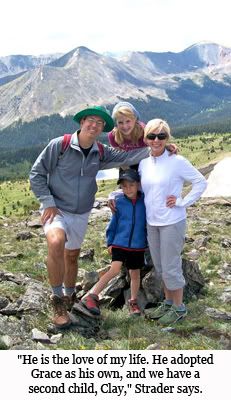 Throughout the years, the family moved around as Bryan's career progressed. Four years ago, the family came back to Cincinnati and Strader was persuaded by an old friend at CCHMC to come back to work. "I was staying at home with our kids when they were younger. I did not have the intention at the time to go back," she says. As luck would have it, within the first week, Strader ran into Dr. Crawford. "He told me I was going to work with him," she says. "That's how I ended up at the Spine Center."
Strader works as a spine nurse and education coordinator now. She is a true advocate for patients going into surgery, just as she did two decades ago. "About 80 percent of cases are with females and research shows it is a genetic issue. They are terrified and their parents are nervous," she says. "We built an education class they must take prior to surgery. We are working hard to alleviate the anxiety associated with spine surgery, make them more competent with what is going to happen." Strader was recently featured in the Fall 2010 CCHMC's young and healthy newsletter about this program. (Click here to learn more.)
A day after we wrapped up our discussion, Strader dropped me an e-mail with a video attachment she shares with patients in the education class. It is truly the icing on the cake of this remarkable account. Knowing now the background and what Strader had to go through to become the advocate she is today, watching this brief video brought tears to my eyes.
Registered Representative and Financial Advisor of Park Avenue Securities, LLC (PAS). Securities products/services and advisory services offered through PAS, a registered broker-dealer and investment advisor. Financial Representative, The Guardian Life Insurance Company of America (Guardian), New York, NY. PAS is an indirect wholly owned subsidiary of Guardian. Lifetime Financial Growth, LLC is not an affiliate or subsidiary of PAS or Guardian. Orange Financial, LLC and Lifetime Financial Growth Company are not affiliates or subsidiaries of PAS or Guardian.
PAS is a member FINRA/SIPC
PHOTO CREDITS
Photos courtesy of Angie Strader