Health
Preserving Local Flair, not Food
Preserving Local Flair, not Food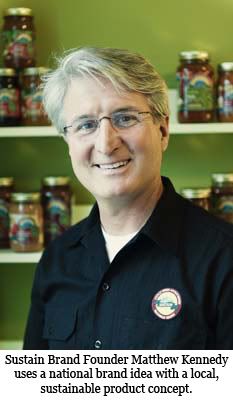 A national brand can always be local. This might seem impossible, but Sustain Brand goes beyond possibilities with this idea, as they have turned it into reality.
"Sustain Brand sources and sells only local product, so our products do not travel more than half a day," Sustain Brand Founder Matthew Kennedy says. In order to make that possible, Sustain Brand has what are called food hubs across the country.
The first hub opened in Cincinnati in 2010, and Sustain Brand currently operates two hubs: one in the Ohio River Valley and the other in the Adirondacks. "We are looking to expand a couple of new hubs every year, all dependent on available resources, of course," Kennedy says.
So if you head to Kroger and pick up some Sustain Brand All Natural Peach and Raspberry Salsa, you'll see on the label that the ingredients come from KHI Farms in Burlington, Ky. But if you go shopping when you are out of town and see Sustain Brand products on the shelves, you'll know that those are products local to where you are, as each product only travels 300 miles before landing on grocery store shelves. To put that in perspective, the average grocery store product travels five times that much for a total of 1,500 miles.
Beyond supporting the local businesses and economy, Sustain Brand brings many health benefits for consumers and their planet. One of the major benefits to the products is their lack of preservatives and relatively low sodium content. "We don't need massive amounts of preservatives because we're not shipping across the country or the planet," Kennedy says.
Another major health benefit of Sustain Brand affects Mother Earth. With all of the shipping and traveling products do, more and more pollution enters the air. As Sustain Brand products only ever travel 300 miles, they cut back on carbon dioxide emissions, which is further decreased with their choice in smaller, more eco-friendly modes of transport.
For more information about Sustain Brand, check out SustainBrand.com and check out their list of store locations for where you can grab a jar of these health, sustainable products.
PHOTO CREDITS
Photographer: Neysa Ruhl
Model: Matthew Kennedy