Health
Biking Cross-country, Spreading Awareness
Biking Cross-country, Spreading Awareness

Miami University graduate Marybeth Bond, her daughter Julieclaire (JC) Sheppard and god daughter Laura Maxwell decided they wanted to make a big difference in a big way. So they came up with a plan to raise awareness about osteoporosis by biking across America.
Bond, her mother and two sisters suffer from osteoporosis, so with Total cereal as their sponsor, she, Sheppard and Maxwell started Bond Girls Bike America. They headed out of San Francisco on June 3, and after biking 3,114 miles, they finished their tour in New York City on July 31.
Throughout their trip, they spread the word about the non-curable but fully preventable osteoporosis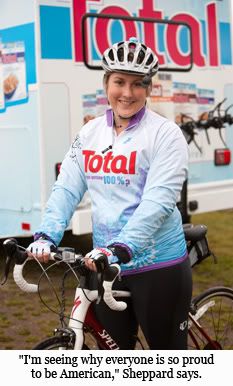 and raised funds for the National Osteoporosis Foundation. In fact, they raised $52,000 for the NOF.
The women stayed in an RV shaped like a huge box of Total cereal, and they would take turns driving as two women were biking the entire route. Along the way, they took a quick detour from that route to come up to Cincinnati to talk with Cincy Chic about their experience.
"It's a way to see my country in a very thorough manner," Sheppard says. "I'm seeing why everyone is so proud to be American." And not only did they get to see America, but America got to see them.
This interaction with people from coast to coast gave the women a chance to talk with people one-on-one about the reality of osteoporosis. "It's very easy to prevent," Sheppard says. "People just don't know."
So the women shared educational information about the importance of calcium and vitamin D. They also
debunked one major myth about osteoporosis: "People think it's just a disease for old people. It's not," Bond says. "You need to be thinking about it all your life."
In fact, the all-important calcium and vitamin D help build bone density, 85 percent of which is developed by age 18. People continue to develop bone density until the peak level between ages 18 and 24. After that, a person can't build bone density anymore, so they have to be sure they are getting the right amount of nutrients to preserve what they already have.
For more information about the women and their cross-country trip, check out BondGirlsBikeAmerica.com, and to learn more about osteoporosis and how you can prevent the disease, head to NOF.org.

PHOTO CREDITS
Photos courtesy of Bond Girls Bike America