Health
Playing Ball with the Boys
Playing Ball with the Boys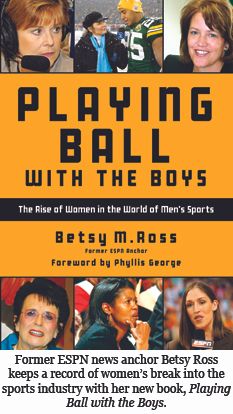 Baseball has become more than just a day at the ballpark, and today's football is more than just a father and son throwing a pigskin back and forth. Sports have become prime entertainment and major money-making businesses.
Another change in the sports world has come with women breaking into the industry. And Betsy Ross, former ESPN news anchor and president of Game Day Communications, keeps a record of it with her new book, Playing Ball with the Boys: The Rise of Women in the World of Men's Sports.
Ross got the inspiration for the book from the apparent demand. Game Day Communications consistently receives calls from young girls and women who are interested in working in the sports business.
"It started out as a business book, but as we got into it, there were so many great stories of women across the board, not just on the business and management side but really so many women who were the first to coach, the first to do something in media, the first to participate," Ross says.
So having just been released Oct. 1, this book tells the tales of women like USA Today's Christine Brennan and Gayle Sierens, who was the first woman to do live play-by-play coverage of the NFL. Those tales include the motivation that led these outstanding women to their sports passion.
"What really surprised me was that so many of these women really got their spark from their mothers or their grandmothers and their moms were like the big sports fans in the household," Ross says. So while Brennan's flame was fueled by her father's own passion for sports, Sierens' mother and grandmother raised her with the football fever. And it was Rebecca Lobo's ability to play college basketball with the support of Title IX that she credits for helping pave her way to sports success.
From their own inspirations to becoming inspirations themselves, the women featured in Playing Ball with the Boys serve as role models for women who want to break into a male-dominated industry, whether that's sports or something else entirely. "I think that a lot of young people need to be reminded that not too much is handed to us in this world," Ross says. "It takes a lot of hard work, and they need to remember that, that a lot of people made a lot of sacrifices for what they have now — and it's important to pass it on."
PHOTO CREDITS
Photo courtesy of Betsy Ross