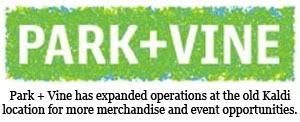 On Sept. 30, Park + Vine conducted business as usual at their Vine Street location, but the next day, they were up and running at their new Main Street location.
"The people who support us made the move easier for us than we did in a lot of ways. … It was a foot-powered move, so we didn't use any vehicles to move the store," Owner Dan Korman says. "Friends, family and supporters of the store literally helped us move the store from Vine to Main using bicycles and four-wheeled dollies."
The move itself doubled pretty much everything for the store. "It's double the amount of space, double the amount of merchandise, double the amount of employees, so a lot of change all at once," Korman says.
With the expansion, Park + Vine now is able to play host to more social events, and just as that supportive momentum helped physically move the store, that support is propelling Park + Vine into a pretty exciting future. One loyal customer is setting up a musical line-up, and the store is turning to customers for help in converting the back patio into a green space. (To learn more, check out the "Permaculture Design Foundations" event on Park + Vine's Facebook page.)
The back patio will serve as a daily opportunity for customers to relax. The space is the old Kaldi's location, and Park + Vine keeps the coffee brewing with a coffee bar, so customers can sit on the back patio to sip their cup o' joe.
Korman plans to hold several events on the back patio, depending on the weather, and "we have at least one thing a week that we have scheduled in the store," he says.
As Korman mentioned, the new space allows for double the merchandise as the store's old location, so you might want to plan a shopping trip to check out the new goods. Coming soon will be a bulk cleaning section so that you can come in to refill your cleaning supplies, and the store also will be adding Dr. Bronner's. "Dr. Bronner's hopefully will be set up in January, but we've already had people walk in the door with their bottles, ready to go, so people are already anticipating," Korman says.
To check out the new store, head to 1202 Main Street in Over the Rhine, and learn more about Park + Vine at ParkAndVine.com or on the store's Facebook page.