Social
Cupcakes and Cocktails for a Cause
Cupcakes and Cocktails for a Cause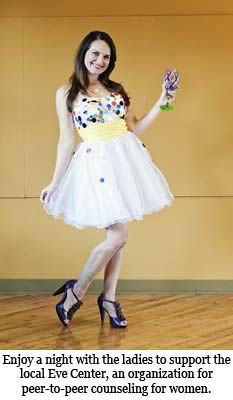 This Valentine's Day weekend you don't have to have a romantic interest to have a fun night out with the girls. And it's all possible with the Eve Center fundraiser "Cupcakes and Cocktails."
"The Eve Center provides free counseling services for women, so in order for us to continue to provide those services and also spread the word about the Eve Center because not a lot of people are aware that the service is available, we thought, let's do something fun that is all about pampering women and it's just a fun night right around Valentine's Day but for women only," Event coordinator and Eve Center volunteer Terrah Kocher says.
This all-women event embodies all things girly for a truly special night. A "Cupcakes and Cocktails" ticket includes cupcakes from Sweet Peace Bakery, food from Montgomery Inn, a drink ticket, a goody bag and a Lipstick and Lashes bar provided by Mary Kay consultant Nancy Forster to give you the chance to glam things up.
"With the Lipstick and Lashes bar, we know that a lot of women don't really try on the deep reds or colors that they might want to wear, so this is a fun place for them to try that and see what they look like, and we're going to put on fake lashes because what girl doesn't want to have longer lashes for a night?" Kocher says.
Guests also will have the chance to do one thing women do best: shop! From jewelry and handbags to clothing and makeup, vendors will be set up and ready to go for your browsing and buying needs. To add a little pop to their night, guests can buy a balloon filled with a surprise prize certificate, which will exceed the $10 cost of the balloon. For more fun, a Paris J. Boutique fashion show will kick off at 9 p.m.
The entire night will benefit the Eve Center. Exclusive to women, this organization provides free peer-to-peer counseling for women going through any difficult time. "Our motto is, 'We've been where you are.' No matter what the story is, we have somebody who's been there, and that is so comforting," Kocher says.
While the counselors are not all trained professionals, they are all trained through an extensive three-month training program. In that training, they learn what organizations can serve women with serious problems that do need professional help. But for the woman looking for a listening ear and support, the Eve Center has it.
"I know that I've gone to counseling before, and I've paid $80 an hour, and I got more out of this free experience than I could have ever gotten from a paid experience. Someone's there listening to me genuinely, not because they're making money," Kocher says.
For more information about the Eve Center and the "Cupcakes and Cocktails" event or to purchase a ticket, check out EveCenter.org. Only 150 women will be able to attend the event because of capacity code, so be sure to get your ticket sooner rather than later.
The Eve Center is still accepting donations and sponsors, so if you are interested in supporting the event, e-mail Kocher at terrah@evecenter.org.

PHOTO CREDITS
Photographer: Neysa Ruhl
Model: Terrah Kocher

Location: BOOST…for meeting's sake