Social
Social Support for Marathoners
Social Support for Marathoners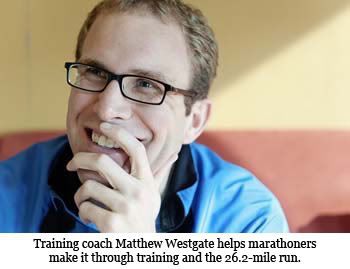 Running doesn't have to be an individual sport. Yes, your time might be all that matters in the technical competition, but in training and the race itself, it can be much easier to have a team. And that's where marathon coach Matthew Westgate comes in.
Westgate is one of several coaches who work with the runners in Bob Roncker's Running Spot Flying Pig Training Program. "As coaches, we're there to kind of help pace people to make sure that they don't go too fast or too slow. Also, we're just kind of all-around cheerleaders," Westgate says.
Before starting as a coach, Westgate went through the training program himself, and his coach, Joe Brinkman, really helped him tackle the obstacle of running a marathon, which inspired him to be a coach, Westgate says. But he also is part of the group for the same benefits that anyone who joins can get.
"I meet people from all over the city, all different backgrounds, all different ages, all different walks of life. I think the people in the group are the No. 1 benefit," Westgate says. Whether you're a Cincinnati native or a Queen City transplant like Michigan native Westgate, you can find friends in the training program who can help you face those 26.2 miles waiting at the end of the training.
"Secondly, when you're training for a marathon, you have a lot of long runs. Especially for the Flying Pig, you have a lot of long runs that are in the cold, and it's a lot easier to get out of bed on a Saturday morning at 7 o'clock when you know people are waiting for you to run with you," Westgate says.
While the official training program meets only two days a week, many members in the group will use Facebook and e-mail to set up additional running times with each other. The social aspect runs even deeper with unofficial training program get togethers, including after-run breakfasts and happy hours.
And Westgate doesn't stop his coaching with the training. He and other coaches will run alongside group members or stand on the side lines to cheer them on. "It helps way more than people think to just see a friendly face or hear somebody yelling that you can do it," Westgate says. "When you're getting to mile 23 and you feel like you want to stop, just to have somebody yelling that you can do it and you're amazing is all you need to just keep going."
For more information about the training program and registration, check out the Flying Pig Training Program page on RunningSpot.com.
PHOTO CREDITS
Photographer: Neysa Ruhl
Model: Matthew Westgate

Location: BOOST…for meeting's sake