Social
Aphrodisiac Night on the Town
Aphrodisiac Night on the Town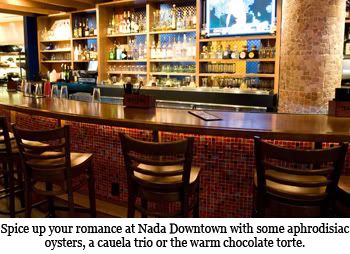 If you're looking to create a night to remember for you and your honey and maybe add a little spice between the sheets, the go-to social sources are aphrodisiacs. Named for the Greek goddess of love, Aphrodite, these foods put you in the mood.
Now, aphrodisiacs are more of a mindset than scientific examples, as there's not really any scientific evidence to back up the theory. But put mind over matter, and what better place to indulge than in the romantic atmosphere of Nada, located Downtown.
"You gotta start with our oyster shooter because oysters are an aphrodisiac and you can't not have our chips, salsa and guacamole," Assistant General Manager Allison Shaw says.
Oysters are commonly thought to be those morsels of love, but they don't necessarily scream "sexy." So instead of slurping out of a shell, you might want to add some spice to your romance with spicy foods, which are also said to be aphrodisiacs.
For the main course, Shaw recommends sharing either the cazuela trio or the grilled mahi mahi. The cazuela trio offers notes of sweet and spicy, but if you want something that takes the heat factor down "the grilled mahi mahi is a nice light spice that's not too overwhelming," Shaw says.
Everyone knows chocolate is the way to just about anyone's heart, so to bring your spicy dinner for two to a delicious end, order Nada's highly recommended warm chocolate torte that is to die for.
After the romantic dinner, you can spice up the dance floor, get your blood flowing and even burn off some calories across the street at Bartini's. Wednesday nights are salsa dancing nights. From 8 to 9 p.m. beginners can learn the basic moves and before long you'll be a true senorita. Moving and grooving is also a common way to get you in the mood.
If you're looking for a bit more of a creative twist, create a scavenger hunt to lead your special someone to you at Nada or someplace that holds special meaning to the both of you and then drop hints through dinner about where the night will lead.

PHOTO CREDITS
Top photo courtesy of Nada
Bottom photo courtesy of Bartini's