Social
Chic Spotlight: Women's Sexual Health Advocate Beverly Whipple
Chic Spotlight: Women's Sexual Health Advocate Beverly Whipple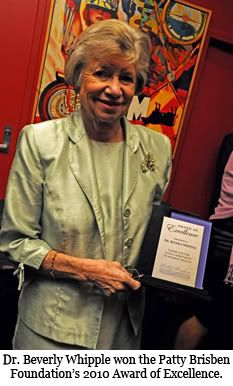 Cincy Chic: You've spent much of your life researching and working in the field of women's sexual health, but what first drew you to the field?
Beverly Whipple, Ph.D. and certified sexuality educator, sexuality counselor and sex researcher: I was teaching nursing in the early 1970s when a student asked me, "What can a man do sexually after a heart attack?" I didn't have a good answer and neither did the other faculty. And we thought this was important.
Therefore, we had a consultant come into our program to help us incorporate sexuality into our nursing curriculum. I then took graduate courses in sexuality and sexual health and later began to teach a course in human sexuality at the college. I joined professional sexuality organizations and later began conducting research concerning women's sexual health.
Cincy Chic: After becoming famous for educating the world about the G-spot and holding titles such as director of the International Society for the Study of Women's Sexual Health and president of the American Association of Sexuality Educators, Counselors and Therapists, what are some of the more interesting facts that you have discovered about women's sexuality?
Whipple: My research program has been devoted to validating the pleasurable sensual and sexual experiences reported by women that were not identified as normal. I have re-discovered and named the Grafenberg spot, or G spot, and documented the phenomenon of female ejaculation, including the analysis of the 3 to 5 cc's of fluid expelled from the urethra that is statistically significantly different from urine.
I have measured orgasms from imagery alone and orgasm in women with complete spinal cord injury in my human physiology laboratory. We have conducted fMRI's of the brain during orgasm in women with and without complete spinal cord injury and in women who experience orgasm from imagery alone. The same brain areas are activated during orgasm from different forms of stimulation including imagery alone.
Cincy Chic: Sexuality can be a taboo topic, but it's important that women take care of their sexual health, so what are your top tips for women to do just that?
Whipple: Based on our research findings, it is important for women to be aware of the variety of ways that they can experience pleasurable sensual and sexual experiences. Each woman is different, and each woman likes different forms of stimulation of all her senses. It is important for women to be aware of what is pleasurable to them, to acknowledge this to themselves, and then communicate what they find pleasurable to their partner.
I view sexuality as pleasure-oriented, not goal-oriented, and I don't want our findings set up as a goal that woman feel they must achieve. I want women to feel good about themselves and what they enjoy experiencing sensually and sexually.
Cincy Chic: You recently received the 2010 Award of Excellence from the Patty Brisben Foundation and came to Cincinnati to receive the award at the foundation's annual fundraising gala. Tell readers a little more about your experience at the celebration.
Whipple: The celebration was wonderful. It was so delightful to meet Patty Brisben and her mother and adult children. Patty and the foundation are doing so much for women's health and women's sexual health, nationally and now even internationally. Everyone there was so kind, and everyone seemed to be having a wonderful time. They made me feel like "Queen for a Day."
Cincy Chic: When you put work aside, what do you like to do for fun?
Whipple: My husband (of 48 years) and I enjoy spending time with our family. Our son and our daughter and their spouses have five wonderful children, and we enjoy being with all of them. We also enjoy traveling nationally and internationally. I have been very fortunate to have visited 88 countries and to have spoken in most of them about sexual health.
Cincy Chic: What do you love most about Cincinnati?
Whipple: The warmth and friendliness of the people. I have only been to Cincinnati to speak. I spoke for many years to "Speaking of Women's Health." I have many friends in Cincinnati, and I value their friendship.

PHOTO CREDITS
Photo courtesy of the Patty Brisben Foundation